Satirical website NewsThump published an article titled "President Trump signs executive order forcing every department store to sell his daughter's products" on February 9th 2017. The article opened:
President Trump has signed an executive order that forces every national fashion retailer to sell his wife's jewellery and his daughters fashion range.

Citing national security and the threat of radical Islam, President Trump signed the executive order under the Make America Great Again banner.

"You voted for me to protect America and make this country great again," explained the President.
The article follows in the wake of Neiman Marcus dropping Ivanka Trump's jewelry line and Nordstrom dropping her clothing and shoe lines.
Of course the article is satire, it says so right at the top of the page: "UK Spoof News and Satire". But if you are in the European Union the E.U. mandated cookie warning banner (no, this is no joke) effectively obscures this message making the site look like a legitimate news website at first glance.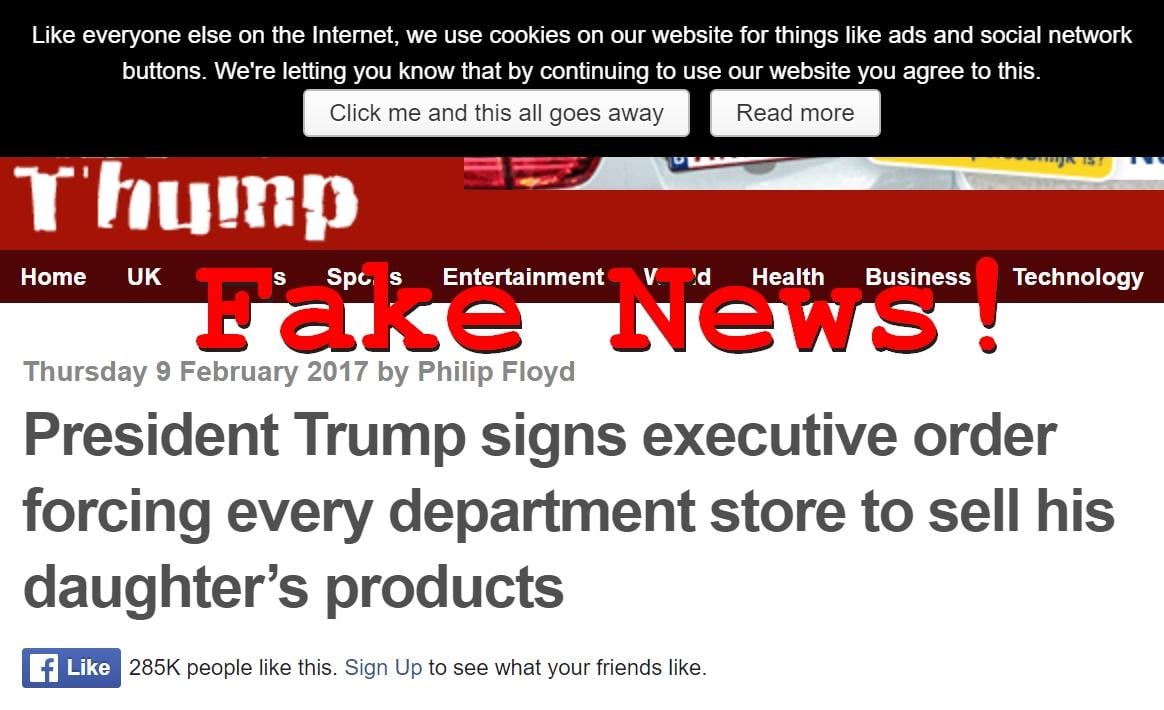 And if you share the article on social media the title and description that appear give no indication at all that the news is not real:
NEWS! President Trump signs executive order forcing every department store to sell his daughter's products https://t.co/VpbXPfzN3E pic.twitter.com/TjW0nN3hII

-- NewsThump (@newsthump) February 9, 2017
So it is no wonder at least some people might be thinking this satirical hoax is real. You can see the spread of this article live via the Trendolizer graph at the end of this article. Seen anyone posting this who thinks it is real? You can help: