STORY UPDATED: check for updates below.
"BABYSITTER TRANSPORTED TO HOSPITAL AFTER INSERTING A BABY IN HER VAGINA" was the title of an article on hoax website World News Daily Report published on or around May 3rd 2017, and it opened like this:
Cincinnati, Ohio | A 31-year old woman was admitted to the University of Cincinnati Medical Center yesterday, after the 14-month old toddler she was babysitting got stuck in her vaginal cavity.

Latifah Brown called 911 around 9:30 PM last night, reporting that she had a baby stuck in her vagina.
As is custom on World News Daily Report the story went with a weird looking mugshot, this time of an obese African-American woman. We weren't able to determine who she was but her face appears in dozens of Google images search results when looking for 'funny mugshots' so we assume that is where the image was taken from: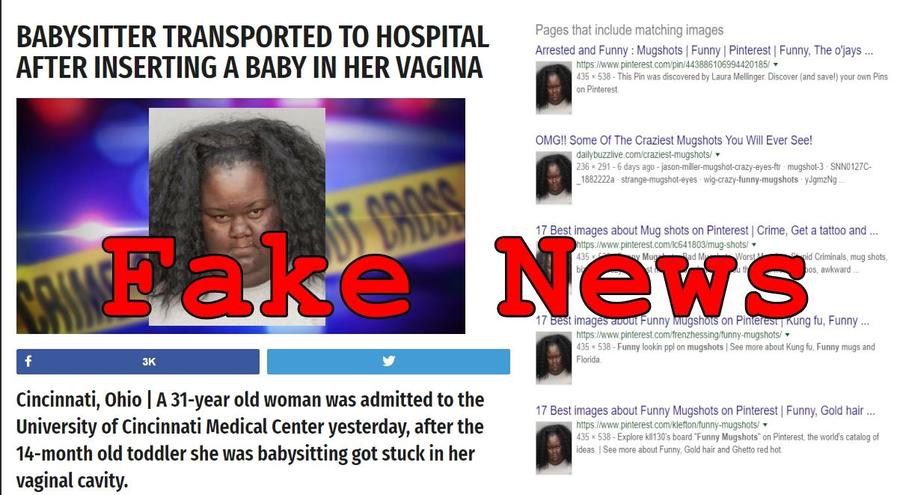 The website World News Daily Report is a well known hoax website specialized in posting hoaxes and made up stories. The disclaimer on their website is pretty clear about that even though you have to scroll all the way down the page to find it:
WNDR assumes however all responsibility for the satirical nature of its articles and for the fictional nature of their content. All characters appearing in the articles in this website - even those based on real people - are entirely fictional and any resemblance between them and any persons, living, dead, or undead is purely a miracle.
That reputation did not stop people from sharing the story as is shown in the Trendolizer graph at the end of this article. Feel free to direct people to this article if you see someone who believes it is real.