Fake satire news website Land of The Free - Home of the Brave published two hoax articles titled "WV School Hires Muslim Principal Who Says 'Sharia Is And Will Be The Law,' Parents Furious" and "Sharia-Loving WV Muslim School Principal Has A Child Bride Who Attends That School" respectively.
UPDATE: The site posted a third story in the saga, this time titled "WV School Board Refuses To Fire Muslim Elementary Principal Who Married Student".
The first story starts:
A grade school in Bluefield, West Virginia is under fire for hiring a Muslim supremacist who thinks Sharia law will one day rule America.

Pratchett-Cline Elementary School may only have 37 students, but now all of these young minds will be corrupted by Muslim ideology thanks to its new principal, Bahar al-Haddaki al-Sharam Hakkam. According to official records, al-Haddaki al-Sharam Hakkam immigrated from Iran in 2008 just after Barack Obama was elected.
The second one opens:
Under Sharia Law, child marriages are not only accepted but encouraged, and something truly perverse is going on in West Virginia. Recently, Pratchett-Cline Elementary in Bluefield hired a controversial figure to head up operations at the 37-student facility: a Muslim who says that Sharia "will always be the law" and believes the throats of non-Muslims should be "ripped."

Local news station WVSO discovered that the situation is even sicker than previously imagined. Last summer, new principal Bahar al-Haddaki al-Sharam Hakkam visited home in Iran where he was previously the Imam of a mosque that preaches violence against non believers and got married. To a 9-year-old girl named Sahana.
Needless to say, there is no "Pratchett-Cline Elementary School" or an "Bahar al-Haddaki al-Sharam Hakkam". We also found no traces of a news station called "WVSO" although we did find the West-Virginia Symphony Orchestra which shares the same initials. The first story also mentions a local channel by the name of "WYSO" which does appear to exist but which is located in Ohio.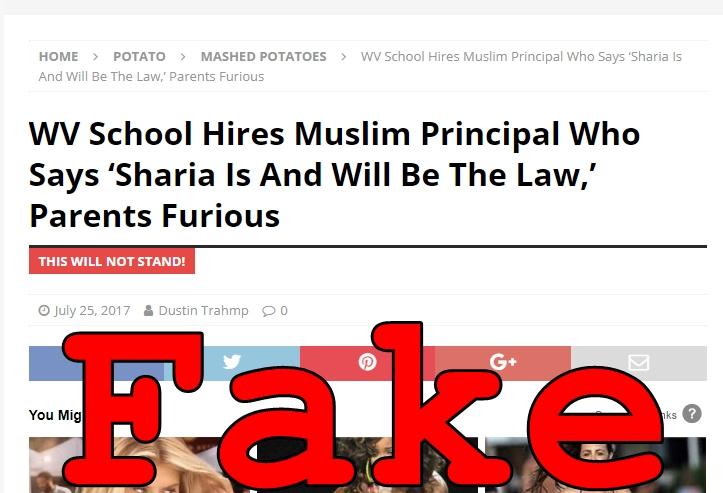 All this is quite unsurprising since there is a big "satire" warning at the bottom of each page and the site also has this disclaimer on the about page:
Ourlandofthefree.com makes no guarantee that anything you find here will be based at all in reality. All posts should be considered satirical and all images photoshopped to look like something they're not. It's not you, it's me.
Yet several thousands of shares later as you can see in the Trendolizer graph below it seems like quite a few people actually believe the story because they haven't clicked through to the articles to actually read them. If you see people in your timeline sharing (or believing) these stories, send them over here to learn the truth.