Fake/satirical website Our Land of the Free posted a hoax article titled "BREAKING: Malia Obama Busted Buying 6 POUNDS Of Marijuana In Chicago" that got widely shared around despite it not being true. The story opened:
If you thought that one little joint Malia Obama smoked while she was shaking her ass at Lollapalooza last year was bad, you ain't seen nothing yet.

Apparently, Malia's weed habit has gotten worse because she was just caught in a massive marijuana bust in her home city of Chicago, Illinois.

Malia was caught buying weed edibles from two of her thug friends as well as enough pot to make thug rapper Snoop Dogg look like an amateur, according to sources within Chicago's elite Drug Task Force.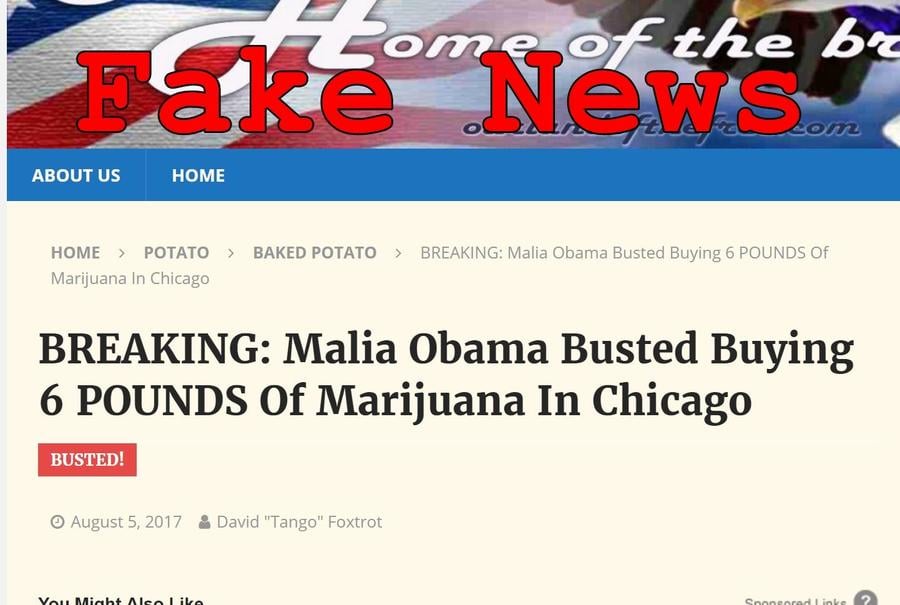 The site followed up with two more articles expanding on the invented story:
It can safely be assumed all three stories are fake since the website carries a big "Satire" label at the bottom:
In addition to that there is also this disclaimer:
We believe in the right to be free. No matter what, the freedom to do what we want, say what we want and publish what we want comes first.
Therefore we make no guarantee that what you read here is true. In fact, it most definitely is not.
Our Land Of The Free is here to entertain you with the kind of whimsical satire conservatives enjoy.
That didn't stop thousands of dumb people from liking/sharing the fake story as the Trendolizer graph at the end of this article clearly shows. Or maybe they just didn't click through to the article to actually read the entire page before sharing it, which is almost just as dumb. Don't hesitate to rub their noses in it by sending them over here...