Fake/satire website NC Scooper posted an article titled "White Supremacist Group Politely Declines Invitation to Protest in South Central Los Angeles" that opened:
Stone Mountain, GA -- A Georgia-based white supremest group has politely declined an invitation to hold a protest in South Central Los Angeles, CNN is reporting today. The South Gate-based group Community Action Now or CAN invited the Knights of Stone Mountain to participate in a "free speech" event in nearby Watts, CA, however after careful consideration, the controversial and outspoken white supremacist group issued a statement on Facebook backing out of the planned even in September.

"The Knights of Stone Mountain have a long tradition of speaking our mind for the rights of the common white man," announced the group via various social media outlets including Facebook, Twitter and MySpace. "However we've made a decision to not attend the upcoming event due to a conflict in our calendar."

The group's leader, a bearded 56-year-old unemployed welder Jim 'Bodean' James, said the move had nothing to do with safety concerns.

"I know what you fake news Lügenpresse people are thinking, we're not stupid," said an obstinate Mr. James speaking over the telephone following the announcement. "It's just that we're sponsoring a church flea market that day and can't make it. Maybe next time, OK?"
The article is completely made up and holds not truth at all. There is no organisation named "The Knights of Stone Mountain" and the image that accompanies the story is a photoshopped image superimposing some people with guns on a picture of a march on Compton Boulevard protesting the death of Noel Aguilar.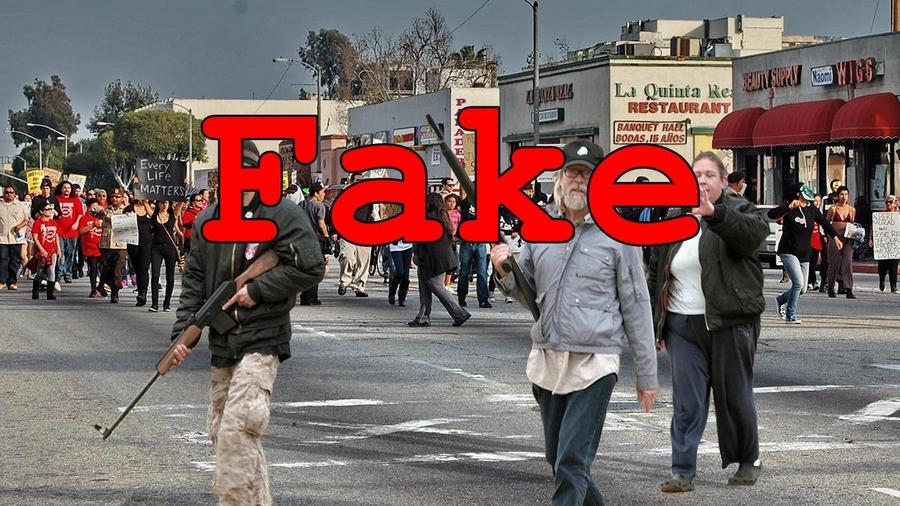 In addition to that the Nevada County Scooper (NCScooper) is a fake news website with following satire disclaimer on their Terms and Conditions page:
Notice of intent

This website is satirical in scope and intent. It provides social criticism in a satirical, sometimes news-genre setting. We are not a fake news site, but rather an entertainment one. Sometimes it's just plain-old crappy writing with a few bad jokes. Anyhow, if this offends you, you might want to consider doing something else with your time not looking at the Internet. Really, the quality of your life will improve dramatically. Also, our intention is not to fool anyone, but if you do get fooled please don't sweat it. Please have fun and lighten up and watch out for Snopes.com. We're not sure they've had all their vaccinations.
So don't fall for this story and warn others who might have taken it seriously if you encounter any on social media.