Paul Horner is a fake news writer and comedian who is said to have influenced the U.S. Presidential Election with his hoaxes. And a few hours ago he revealed a new website named My Phoenix Daily (archived here) via a tweet on a fake Donald Trump twitter account he created last year:
Great new site, the best ever, a site that is NOT FAKE NEWS and almost ready to be seen by all!https://t.co/RERWlQgxSQ#Phoenix #AZ

-- Donald Trump (@WHDonaldTrump) September 14, 2017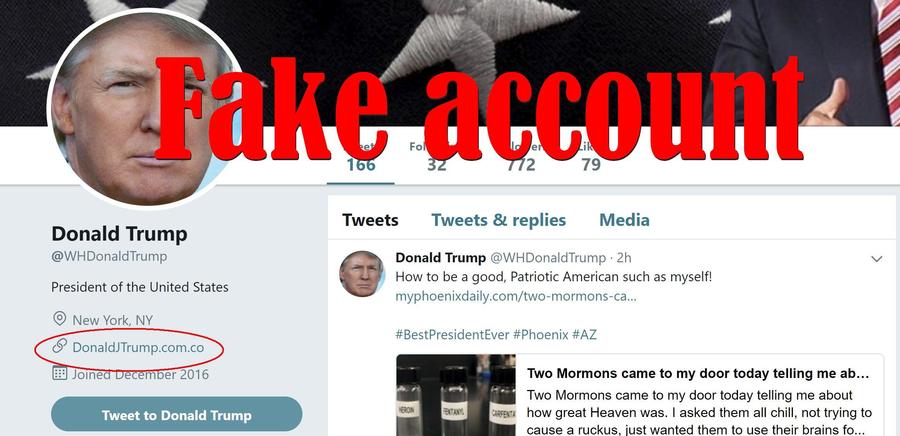 The @WHDonaldTrump twitter account is obviously not Donald Trump's real twitter account (@RealDonaldTrump is). Notice the lack of verification checkmark and the linked site DonaldJTrump.com.co (NSFW) which was registered in Paul Horner's own name according to WHOIS data:
DOMAIN INFORMATION
Domain:donaldjtrump.com.co
Registrar:MARCARIA.COM INTERNATIONAL, INC.
Registration Date:2015-12-07
Expiration Date:2017-12-06
Updated Date:2016-10-18
Status:clientTransferProhibited
Name Servers:ns1.superofficialnews.com
ns2.superofficialnews.com
REGISTRANT CONTACT
Name:Paul Horner
Organization:Paul Horner
Street:402 North 10th Street
City:Phoenix
State:Arizona
Right now there are no "real" fake news stories on the site yet, just some filler content including one article copied from mericaland.com (another of Horner's creations). The site appears to be masquerading as a local news outlet for Phoenix, Arizona, a tactic often used by fake news websites.
WHOIS domain information shows that myphoenixdaily.com was only registered two weeks ago and uses nameservers at superofficialnews.com, another of Horner's domains:
DOMAIN INFORMATION
Domain:myphoenixdaily.com
Registrar:1&1 Internet SE
Registration Date:2017-07-31
Expiration Date:2018-07-31
Updated Date:2017-09-05
Status:clientTransferProhibited
Name Servers:ns1.superofficialnews.com
ns2.superofficialnews.com
We already noticed last week that Horner had seemingly returned from retirement by launching a new Banksy arrest hoax. It remains to be seen what Horner is planning with the new site, we will keep watching it and let you know as soon as we find out. You can read more about Horner's previous exploits in his own words here.