Visitors to Freedum Junkshun, one of Chris Blair's (in)famous satirical fake news sites, reportedly can no longer share links from the site on Facebook. We tested it ourselves and were greeted by this message: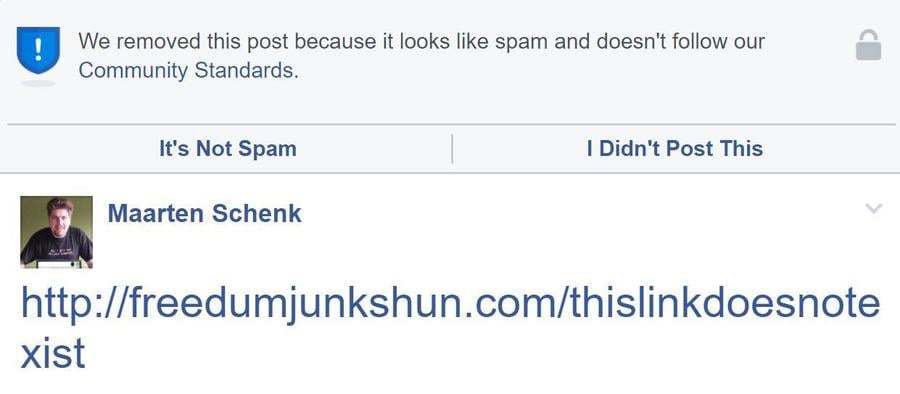 It is quite strange how a page that doesn't even exist and which returns a 404 error can be considered spam: http://freedumjunkshun.com/thislinkdoesnotexist.
Christopher Blair is a man from Maine who has made it his full time job to troll gullible conservatives and Trump supporters into liking and sharing his articles. He runs several other websites such as reaganwasright.com and thelastlineofdefense.online (formerly thelastlineofdefense.org). Sometimes he is also known under his nickname "Busta Troll".
The Freedum Junkshun site was probably blocked in an attempt to stem the flow of fake news on Facebook: articles from Blair's sites frequently get copied by "real" fake news sites who often omit the satire disclaimer and any other hints the stories are fake. Blair has tried to get these sites shut down in the past but new ones keep cropping up.
This isn't the first time one of Blair's sites gets blocked: only a few weeks ago The Last Line of Defense was treated in a similar manner. That site simply changed its address to nunadisbereel.com at first and is now located at thelastlineofdefense.online (instead of .org). The site doesn't seem to have suffered much from the forced address change and has participated in a recent slew of fake news stories about Antifa violence that racked up thousands of likes.
We are speculating but perhaps the site was reported to Facebook based on the assumption it contained real hate speech and the moderators didn't pick up on it? Or perhaps it was because it was all written under a pseudonym. Facebook's Community Standards explicitly allow satire and humor about "hate speech" under certain conditions:
We allow humor, satire, or social commentary related to these topics, and we believe that when people use their authentic identity, they are more responsible when they share this kind of commentary. For that reason, we ask that Page owners associate their name and Facebook Profile with any content that is particularly cruel or insensitive, even if that content does not violate our policies. As always, we urge people to be conscious of their audience when sharing this type of content.
Freedum Junkshun does cary a satire disclaimer at the bottom of the page which reads:
We believe that there is nothing more precious than the mind of an aging conservative. Here we gather a boatload of bullhonkey, works of pure satirical fiction, to give the fist-shakers of the world a reason to hate. Reality is often in the eye of the beholder. You won't find any of it here.

Join the fun in the comments on our Facebook page where you too can watch David Hasselhoff running over someone's poodle magically transformed into a crime against humanity by Barack Obama or yet another murder the Clintons got away with.
We will keep monitoring the network of Blair's sites and will update this article if there are further developments.