STORY UPDATED: check for updates below.
A 54-year old woman by the name of Geraldine Boudin did not sue the Paris Zoological Park and she did not claim a hippopotamus that escaped the zoo sexually assaulted her. The story is a complete fabrication originating on a humor website.
It originally appeared on World News Daily Report under the title "400-pound woman sues Paris Zoo after escaped hippo tried to rape her" (archived here) where it opened:
Paris | The Paris Zoological Park is being sued after a woman claims she was sexually assaulted by a hippopotamus that had escaped the zoo for only a few hours yesterday.

The large semiaquatic mammal apparently was able to slip out of its enclosure last night after massive flooding and a fallen tree severely damaged the security fence.

Geraldine Boudin, 54, owner of a bakery next to the Zoological Park, is suing the zoo's administration after she claims she was sexually assaulted by the huge beast after she was returning home that night.
While it is true that the Paris Zoological Park was briefly evacuated on January 26th 2018 because some animals escaped, no hippopotamus got away. In fact the escape concerned 52 baboons (who raped nobody).
The picture used to illustrate the story actually shows an escaped hippopotamus in Tblisi, Georgia who got away in June 2015. And the woman in the photo is Vilma Soltesz, a 407lb woman who died at a holiday home in Hungary after she was not allowed to fly back to New York City by Delta, KLM or Lufthansa in 2012.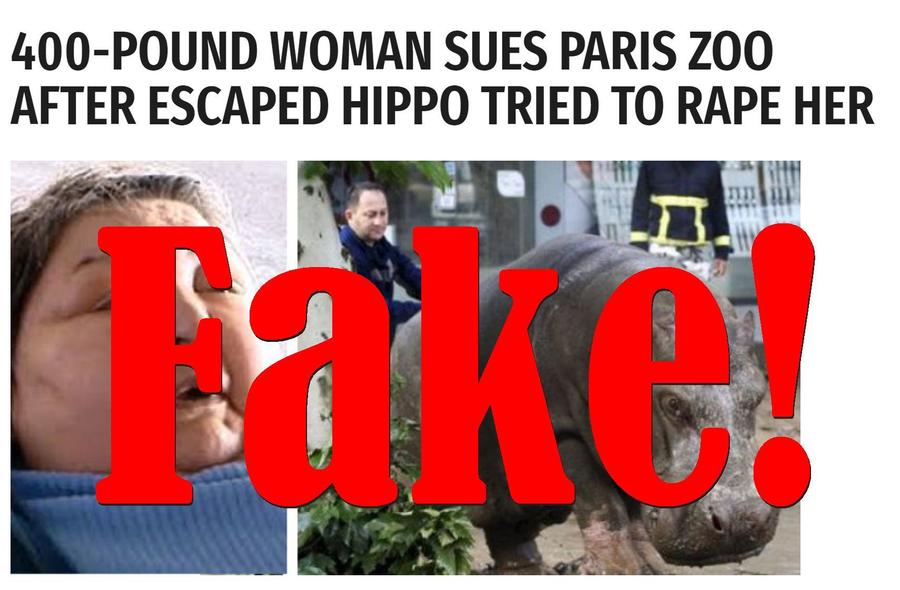 The website World News Daily Report is a well known hoax website specialized in posting hoaxes and made up stories. The disclaimer on their website is pretty clear about that even though you have to scroll all the way down the page to find it:
World News Daily Report assumes all responsibility for the satirical nature of its articles and for the fictional nature of their content. All characters appearing in the articles in this website - even those based on real people - are entirely fictional and any resemblance between them and any person, living, dead or undead, is purely a miracle.
It is run by Janick Murray-Hall and Olivier Legault, who also run the satirical Journal de Mourréal, a satirical site spoofing the (real) Journal de Montéal.
Stories from the site frequently get copied by 'real' fake news websites without a satire disclaimer, often months later. So if you read the story on one of those sites, know it originally came from a satirical publication and should not be taken seriously.
2018-03-12T08:12:41Z

2018-03-12T08:12:41Z

The story is currently going viral again because of a copy on

8shit.net

.