STORY UPDATED: check for updates below.
No huge meteor impacted in Russia today, not near the Kalmykia region nor anywhere else. A Facebook page by the name of Ebuzz published a supposedly live video today claiming as much ("Huge meteor crashed in Russia!") but it is fake. The burning crater shown in the video is unrelated to any meteor. As long as the video is still up, here it is for your viewing pleasure: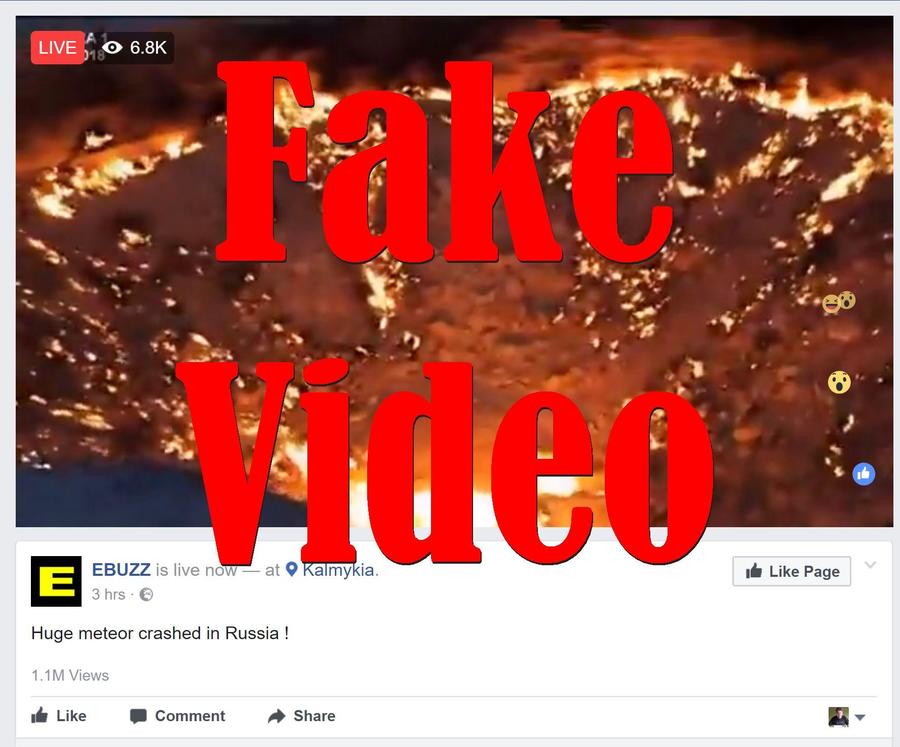 What the video shows is the Darvaza gas crater in Turkmenistan. Wikipedia describes it as:
The Darvaza gas crater (Turkmen: Jähennem derwezesi, Җәхеннем дервезеси),[1][2][3] known locally as the "Door to Hell" or ''Gates of Hell", is a natural gas field in Derweze, Turkmenistan, that collapsed into an underground cavern, becoming a natural gas crater.[4] Geologists set it on fire to prevent the spread of methane gas, and it has been burning continuously since 1971. The diameter of the crater is 69 metres (226 ft), and its depth is 30 metres (98 ft).[5]
Over the years several spectacular videos of the crater have been published to YouTube. Here's a nice one:
Don't be fooled by fake live Facebook videos: sometimes page owners will splice together a looping video for hours on end and claim it is a live stream in an effort to attract as many likes, shares and comments to the page in a short period to make Facebook's algorithms think the page is more important than it really is. Don't fall for it!
2018-01-30T18:46:08Z

2018-01-30T18:46:08Z

It appears the original video has been taken down.

2018-01-30T18:07:21Z

2018-01-30T18:07:21Z

Google is currently promoting the fake video in the search results: