You may have read a story online that said televangelist Jim Bakker claimed "Trump Was Merely Sharing The Gospel With That Porn Star" after rumors had emerged in The Wall Street Journal about the president having an affair with a porn star named Stormy Daniels. Bakker himself had been accused of rape before and has served time for fraud. The entire Bakker quote is made up although the jury is still out on the Trump-Daniels affair.
The false story about Bakker originated on satirical website The Babylon Bee where it was published (archived here) under the title "'Trump Was Merely Sharing The Gospel With That Porn Star,' Explains Jim Bakker". It opened:
BLUE EYE, MO--Squashing accusations that President Trump had a sexual encounter with porn star "Stormy Daniels" while he was married to Melania, televangelist Jim Bakker explained to his audience Friday that he had confirmed that Trump was merely scheduling private time with the woman in a hotel suite in order to share with her the good news of Jesus Christ, as he had become acquainted with her and was very concerned that she was not a Christian.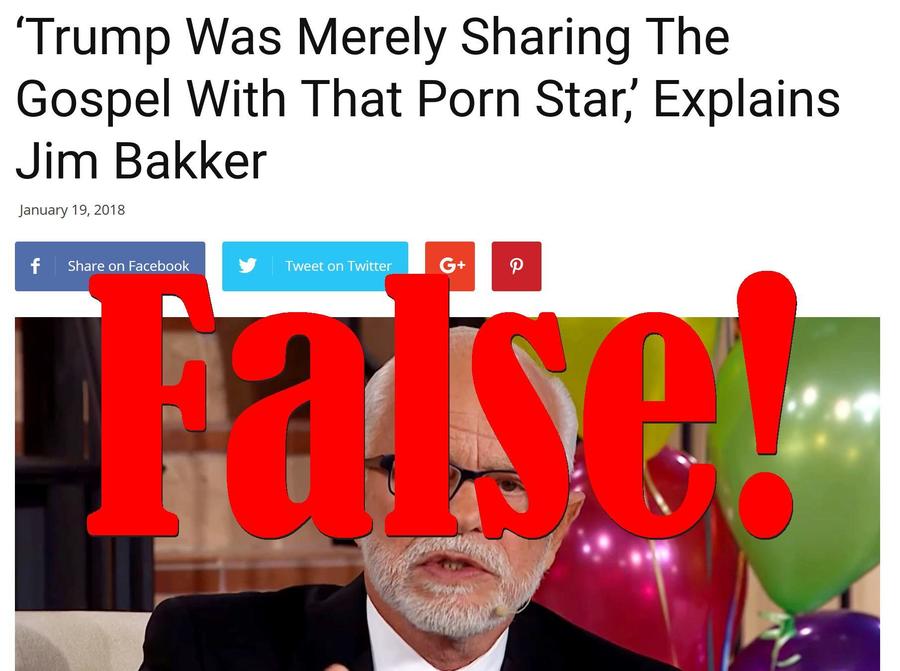 But "The Babylon Bee" comes with following dislaimer on every page:
The Babylon Bee is Your Trusted Source For Christian News Satire.
Some of their greatest past hits include:
With a track record like that it is clear that you shouldn't take anything posted on the site seriously and you definitely shouldn't confuse it with real news. Despite this reputation the fake story obtained over 160,000 likes, shares and comments and many people on social media seemed to think it was real:
And Jim Bakker who claims Trump was reading the gospel to her. I'll try and find link to re-post

-- Caring for Vets (@mama2fluffs) 21 januari 2018
Who would ever believe this BS? Oh, Jim Bakker- the one who cheated on his wife? The convicted felon? Televangelist Jim Bakker was indicted on federal charges of mail and wire fraud and of conspiring to defraud the public. A lenient judge set him free. pic.twitter.com/7XUdXjKp3g

-- Ollie (@marciebp) 21 januari 2018
Not satire. This is who they really are: 'Trump Was Merely Sharing The Gospel With That Porn Star,' Explains Jim Bakker https://t.co/EW7el4TyUj

-- RevolutionNow🇺🇸 (@Chernynkaya) 21 januari 2018
So wait, according to Jim Bakker, who cheated on his wife, Trump wouldn't cheat on his beautiful wife?? Better talk to Ivana and Marla about that Jimbo!

-- Jersey Redhead (@jrzyredhead) 21 januari 2018
Don't fall for it!