Did you read the story of poor Edward Norris, an 81-year old man from Newark, New Jersey who suffered from Alzheimer's disease and accidentally ovedosed on 21 flu shots (taking 14 in one day) because he kept forgetting he already got one? Fortunately it never happened, the entire thing is not true.
The story originated on satirical website World News Daily Report where it was first published under the title "Man with Alzheimer's disease dies after getting 14 flu shots in a day" on February 15th 2018 (archived here). It opened:
An 81-year old man suffering from Alzheimer's disease was found dead in his home Yesterday, after getting more than dozen influenza vaccines over an 8 hour period.
Edward Norris, from Newark in New Jersey, was found dead in his bed Yesterday morning by his visiting daughter.

The elderly man was known to suffer from Alzheimer's disease but was otherwise rather healthy, so his sudden demise came as a surprise to his family.

While inspecting his bedroom, his daughter Philis noticed a pile of receipts from various hospitals medical clinics on a bed table.

According to her, the papers indicated that the elderly man had received at least 21 flu shots over a two day period, 14 of them on the same day.
The image that accompanied the story was just a stock photo taken from Shutterstock where it was titled "Smiling senior man".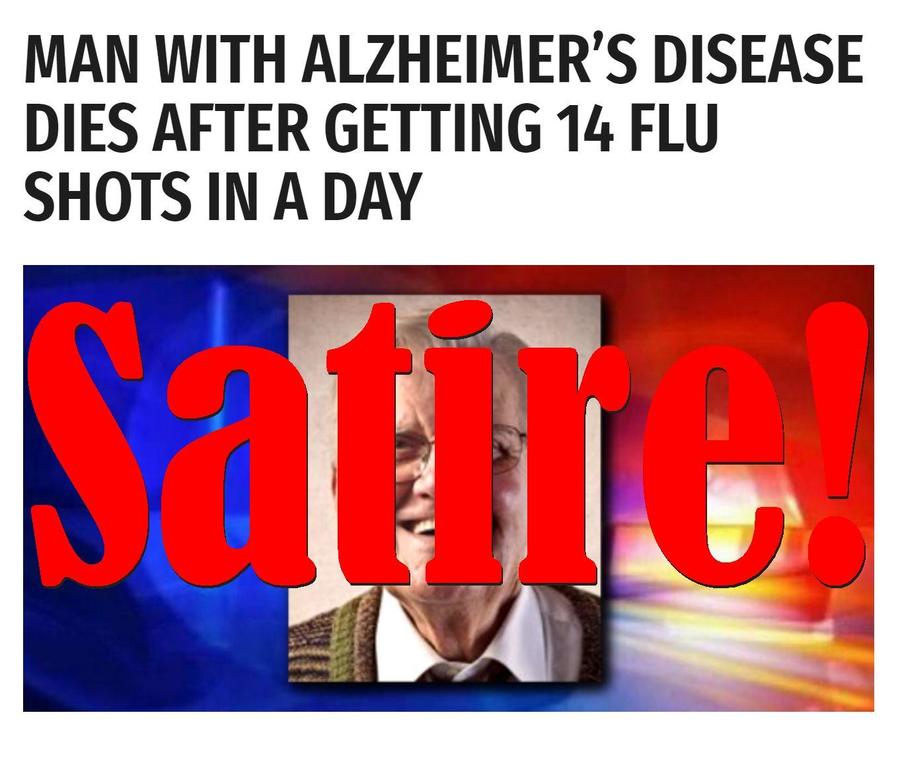 The website World News Daily Report is a well known hoax website specialized in posting hoaxes and made up stories. The disclaimer on their website is pretty clear about that even though you have to scroll all the way down the page to find it:
World News Daily Report assumes all responsibility for the satirical nature of its articles and for the fictional nature of their content. All characters appearing in the articles in this website - even those based on real people - are entirely fictional and any resemblance between them and any person, living, dead or undead, is purely a miracle.
It is run by Janick Murray-Hall and Olivier Legault, who also run the satirical Journal de Mourréal, a satirical site spoofing the (real) Journal de Montéal. Articles from the site frequently get lifted by other sites that omit the satire disclaimer. We suspect this one might soon get lifted by sites using it as "evidence" that flu shots are unsafe. If you saw the story on such a site, rest assured it was actually just a piece of satire.