Rumors that New England Patriots player Rob "Gronk" Gronkowski was being traded to the Seattle Seahawks are not true. The fake story about the tight end who recently recovered from a concussion and who was recently the subject of rumors about retirement or a movie career is definitely not being traded to the Seattle Seahawks.
That fake story went viral on prank website "feednets.com" where it was published under the title "Rob Gronkowski Traded to the Seattle Seahawks" (archived here). The entire article there ostensibly read:
After multiple injuries and unsuccessful practices, the Patriots decide to look for new tight ends.
The article on the site would initially resemble a Facebook post with a news story, with a title, descsription, image and URL. People who clicked the item would be shown a message that read "You Got Owned!" and buttons that encouraged them to share the prank or create their own version.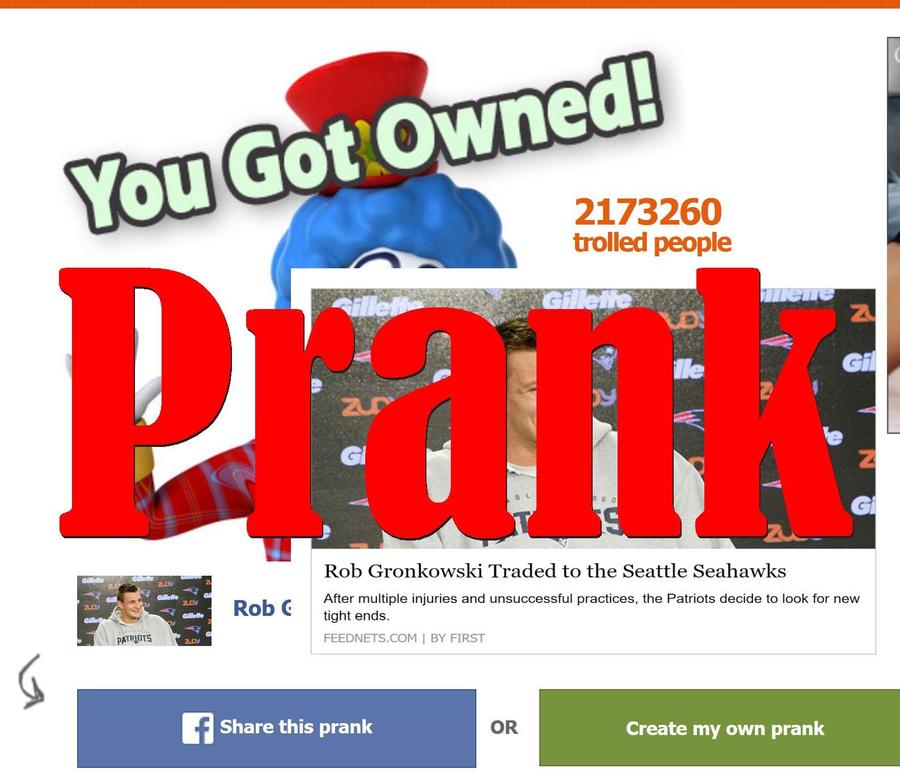 As you can clearly see from this screenshot, the site is a prank website where anybody can write their own headline and description to be combined with any image found on the internet in order to fool friends and family. In this case the prank probably had way more succes than the original prankster thought it would have, racking up around 50.000 likes, shares and comments on Facebook.
The site is part of larger network of prank websites all using a similar layout: earlyview.com, feednets.com, wlinks.co, nwpedia.club, mediabgroup.com...
Don't get pranked!