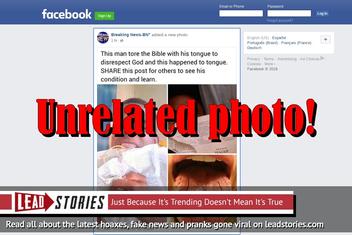 Fake news facebook page "Breaking News-BN" is at it again, trying to collect likes, shares and comments with a fake picture. This time it is with a photo captioned:
This man tore the Bible with his tongue to disrespect God and this happened to tongue. SHARE this post for others to see his condition and learn.
The post was published on March 25, 2018 and we archived it here.
It seems to use some photos from an old Facebook post about a man who indeed destroyed a Bible:
A young Nigerian man, Udummiri Nwakalu, has become an overnight Internet sensation after he posted of himself on his Facebook while tearing the Holy Bible , saying it is from the devil.
And seems it combined them with an old photo that's been in use as a meme since at least 2016:
See more 'I Don't Need It' images on Know Your Meme!
We wrote about hoaxes from the same Facebook page before, here are our most recent articles that mention it:
The page seems to be cynically exploiting religious people to collect likes and shares in order to increase it's potential reach on Facebook.