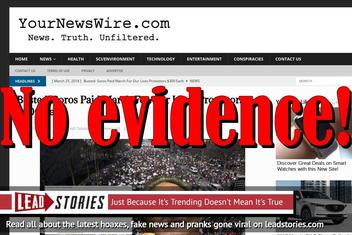 Were protesters really paid $300 each by George Soros to attend the "March For Our Lives" event and was he "busted" for doing this? Not really. The claim is being pushed by an unreliable website based on a few tweets and a Craigslist ad.
The story originated from an article published on March 25, 2018 on YourNewsWire titled "Busted: Soros Paid March For Our Lives Protestors $300 Each" (archived here) which opened:
#MarchForOurLives organizers paid protestors $300 each to attend the March 24 protest in Washington, D.C, according to reports.

Journalist Jacob Wohl found ads posted on Craigslist where Soros organizers looked to recruit paid protestors to attend the march.

"Here's one of the ads that was posted by #MarchForOurLives organizers seeking PAID "street-teams" in Washington DC."
At least this time YourNewsWire mentions where their "reports" come from so we can actually check the primary sources, most notably the Craigslist ad (archived here). The text of that ad read (our highlights):
MARCH FOR OUR LIVES anti-gun violence protest! Street team! CASH PAID (Los Angeles)
compensation: cash
WE ARE HIRING UP UNTIL FRIDAY EVENING AT 7 PM

STILL HIRING 20-25 outgoing salespeople to sell merchandise at the gun March for Our Lives gun control protest. 50,000-100,000 people expected at Pershing Square in downtown L.A. SATURDAY, MARCH 24th

We will be selling March for Our Lives buttons, flags, wristbands, etc

Hours 7:30 am - 2 p.m.

Earn 20% commission on your sales. Average $120- $300++ CASH PAID
So basically an ad for hiring temporary merchandise salespeople earning a commission. But via his Twitter account Jacob Wohl also reported replying to the ad and getting following reply back:
"Hi Jacob,
Thanks for your offer to help us at #MarchForOurLives. Unfortunately we don't need anymore merch staff, but if you come to participate in the march, we can arrange to Venmo you $50 for your lunch and travel expenses." pic.twitter.com/RS67DmzuKN

-- Jacob Wohl (@JacobAWohl) March 25, 2018
It is unclear who the "Glenn Buchwald" is who supposedly sent that mail or if (and how) he is connected to George Soros. The article or the Twitter account provide no proof or evidence for this. They also don't prove the money was actually paid and if each of the reported 500,000 to 800,000 marchers in Washington D.C. alone received the same amound of money.
It would have cost Soros between $25 million ($50 for 500,000 people) and $240 million ($300 for 800,000 people) for the Washington march alone if the article was true (not counting costs for administration and transaction fees). And there would be way more evidence available from thousands of people telling their friends online they received all this cash and urging them to sign on too. So we're going to go ahead and call this one fake.
We wrote about yournewswire.com before, here are the most recent articles that mention the site:
YourNewsWire has published several other hoaxes and fake news articles in the past so anything they write or publish should be taken with a large grain of salt. Their Facebook page "The People's Voice" even lost its verification checkmark according to a report from MMFA.
The Terms of Use of the site also make it clear they don't really stand behind the accuracy of any of their reporting:
THE PEOPLE'S VOICE, INC. AND/OR ITS SUPPLIERS MAKE NO REPRESENTATIONS ABOUT THE SUITABILITY, RELIABILITY, AVAILABILITY, TIMELINESS, AND ACCURACY OF THE INFORMATION, SOFTWARE, PRODUCTS, SERVICES AND RELATED GRAPHICS CONTAINED ON THE SITE FOR ANY PURPOSE.
The site was profiled in the Hollywood reporter where it was described as:
Your News Wire, a 3-year-old website of murky facts and slippery spin, is published by Sean Adl-Tabatabai and Sinclair Treadway -- a Bernie Sanders supporter in 2016 -- out of an apartment in L.A.'s historic El Royale.
RationalWiki described it as:
YourNewsWire (styled as YourNewsWire.com[1]) is an Los Angeles-based clickbait fake news website known for disseminating conspiracy theories and misleading information, contrary to its claimed motto ("News. Truth. Unfiltered").[1]
A while ago we also reported that YourNewsWire had rebranded itself as NewsPunch by changing its domain name in an apparent effort to evade filtering/blocking. It appears the site has changed back to it's old name in the mean time but you can still see the NewsPunch name in the contact email address in the footer.