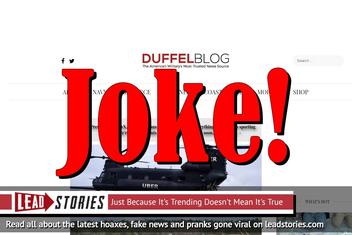 Is the U.S. military really partnering with ride-hailing service Uber to set up an on-demand helicopter extraction scheme called Uber-Xtract? Of course not, that's completely made up and not true.
The story first appeared on military satire website DuffelBlog which published an article on March 19, 2018 titled "Pentagon partners with Uber for on-demand helicopter extraction" (archived here) which opened:
AFGHANISTAN -- Amid a shortage of qualified military pilots that can help support operators on the ground, the Pentagon has turned to ride-sharing company Uber to fill the gap, sources confirmed today.

"Imagine that you're a team of Navy SEALs in desperate need of extraction," said Uber CEO Dara Khosrowshahi. "Suddenly a Cessna-172 appears from thin air. It's Sadir from Uber, here to fly you through intense ground fire in a pleasant 71 degree cabin to the cool stylings of adult contemporary. 'Cucumber-infused water?' he asks, producing a chilled carafe. This is the kind of experience we hope to offer our customers with Uber-Xtract."
Some users on social media who only saw this title, description and thumbnail might have mistaken the story for real news (although there is clearly a hint in that description that it is all a joke):
Some complain of surge pricing and in some cases, accidentally UberPOOLing with insurgent combatants to and from the battlefield.
The website Duffelblog.com is a military-themed satire website which sports following legal disclaimer on its 'about' page:
Legal

We are in no way, shape, or form, a real news outlet. Everything on this website is satirical and the content of this site is a parody of a news organization. No composition should be regarded as truthful, and no reference of an individual, company, or military unit seeks to inflict malice or emotional harm.

All characters, groups, and military units appearing in these works are fictitious. Any resemblance to real persons, living or dead, or actual military units and companies is purely coincidental.
They are sometimes refered to as the military version of The Onion but that same 'about' page points out:
Duffel Blog is sometimes referred to as "The military version of The Onion," but this is a misnomer. The gaffe was cleared up in May 2012 when Duffel Blog staff successfully conducted an airborne assault on the offices of The Onion News Network so that others would know "The Onion was actually the civilian version of Duffel Blog."
So don't fall for any of their stories...