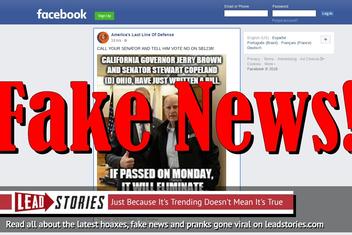 Did California Governor Jerry Brown and Senator Stewart Copeland from Ohio write a bill (SB 1238) that would eliminate the Second Amendment if passed? No, that's not true, it is a complete piece of fiction that originated on a Facebook page set up to troll conservatives and Republicans with fake memes and satirical fake news articles.
The Facebook page America's Last Line of Defense posted a meme on April 21, 2018 along with following message "CALL YOUR SENATOR AND TELL HIM VOTE NO ON SB1238!" (archived here). The text on the image meme read:
California Governor Jerry Brown and Senator Sewart Copeland (D) Ohio, have just written a bill. If passed on monday it will eliminate the Second Amendment.
Where to begin?
First of all, to change the U.S. Constitution by eliminating an amendment one would need the approval of three fourths of the States (and that is after several other steps have been taken). Read the full process here:
The authority to amend the Constitution of the United States is derived from Article V of the Constitution.
So just writing a bill and having it voted on 'next monday'? Not going to happen. For the record, there are several state senate bills numbered SB1238 from various states all dealing with different subjects (patient record storage, inmate biometric identification data, gas investments, medical leave...). None of them abolish the Second Amendment.
Secondly, the current senators for Ohio are Sherrod Brown (D) and Rob Portman (R). Stewart Copeland is the drummer of The Police. And the photo that makes up the background of the meme does indeed show California Governor Jerry Brown but the other man is U.S. Secretary of the Interior Ryan Zinke meeting with Brown in April 2017 (photo).
And finally the Facebook page America's Last Line of Defense has following description on it's about page:
Nothing on this page is real. It is a collection of the satirical whimsies of liberal trolls masquerading as conservatives. You have been warned.