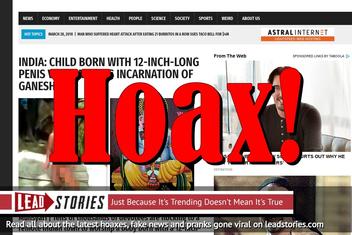 Was a baby born with a 12-inch penis in Munsyari in India and is he being worshipped as the reincarnation of Lord Ganesh, an elephant-headed deity? Nope, that story is false, it did not happen. It came from a satirical website with a disclaimer saying it is not true.
It came from an article published on April 3, 2018 on World News Daily Report that was titled "India: Child born with 12-inch-long penis venerated as incarnation of Ganesh" (archived here) and which opened:
Munsyari | Tens of thousands of devotees are flocking to a remote Indian town to worship a baby born with a 12-inch-long penis as the reincarnation of a Hindu god.

The boy has been diagnosed with megalophallus-a rare penis enlargement disorder which affects just one in ten million people.

To an increasing number of Hindu worshippers, the newborn is the reincarnation of Lord Ganesh, the elephant-headed deity.

Hindus worship Ganesh as the god of fertility, love and devotion; as well as of divine masculine strength and sexual power.
The image of the baby is actually from a 2015 incident in which a witch doctor forced a baby to "walk" by holding it up by the neck, in order to cure a fever:
In an extremely disturbing incident, a two-day old baby boy was forced to walk by a village witch doctor in an attempt to cure high fever.
The website World News Daily Report is a well known satire website specialized in posting hoaxes and made up stories. The disclaimer on their website is pretty clear about that even though you have to scroll all the way down the page to find it:
World News Daily Report assumes all responsibility for the satirical nature of its articles and for the fictional nature of their content. All characters appearing in the articles in this website - even those based on real people - are entirely fictional and any resemblance between them and any person, living, dead or undead, is purely a miracle.
It is run by Janick Murray-Hall and Olivier Legault, who also run the satirical Journal de Mourréal, a satirical site spoofing the (real) Journal de Montéal. Very often their stories feature an image showing a random crazy mugshot found in a mugshot gallery on the internet or on a stock photo website superimposed over a background of flashing police lights or crime scene tape.
Articles from the site are frequently copied (sometimes even months or years later) by varous fake news websites that omit the satire disclaimer and present the information as real.
We wrote about worldnewsdailyreport.com before, here are our most recent articles that mention the site: