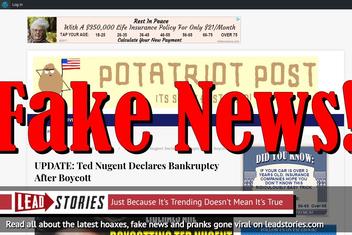 Did Ted Nugent really declare bankruptcy after a liberal boycott on Facebook? Nope, that rumor originated on a satirical website set up to troll conservatives and Trump supporters into sharing fake news so they could get mocked for it online. The story is not true and did not happen.
It originated with an article published on April 3, 2018 on the Potatriot Post titled "UPDATE: Ted Nugent Declares Bankruptcy After Boycott" (archived here) which opened:
A few days ago, liberals on Facebook announced that they would be boycotting Ted Nugent. Being conservatives and watching how our own boycotts destroyed Nordstrom, the NFL and the Broadway show Hamilton, we responded with a massive show of support by sharing the meme you see above more than 150K times.

Unfortunately, it wasn't enough. Art Tubolls, Ted's bankruptcy attorney, told us in an email that the boycott just cut too deeply:

"Mr. Nugent faced financial ruin the likes of which you wouldn't wish on your worst enemy. 13 of the 15 albums he sold were returned by their owners and the guy who still had his autograph on his knock-off Strat decided to burn it and take the $40 loss."
The meme referenced in the post was this image: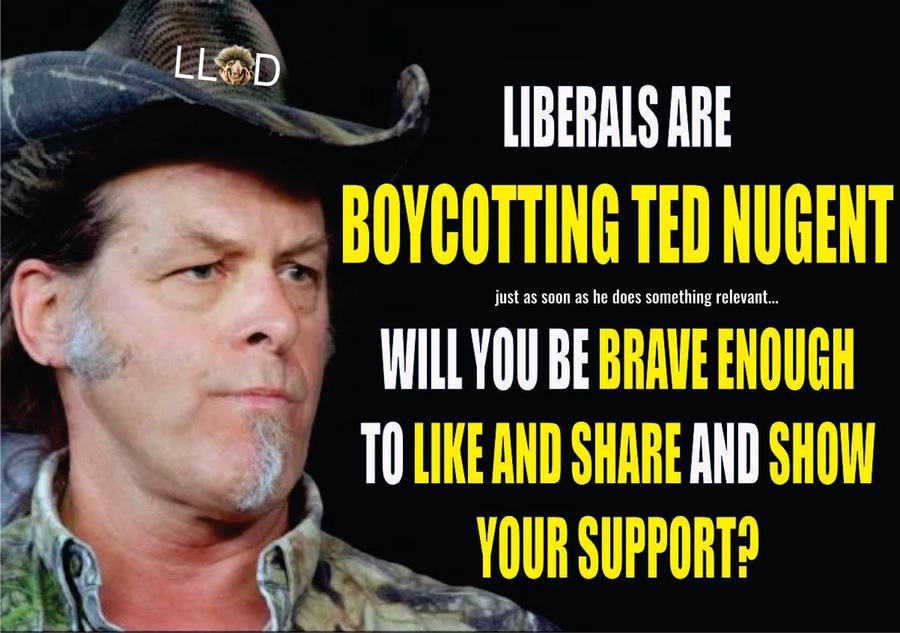 As you can see, the image implied in the small print there wasn't even a liberal boycott because Nugent supposedly hasn't done anything "relevant" yet. Also note the "LLOD" marking on the hat, which contains the avatar of "Busta Troll", the owner of the network of sites and the Facebook page that originally posted the image.
The Potatriot Post comes with a clear satire disclaimer at the bottom of each article:
sat·ire ~ˈsaˌtī(ə)r
noun
the use of humor, irony, exaggeration, OR ridicule to expose and criticize people's stupidity or vices, particularly in the context of contemporary politics and other topical issues.
If you disagree with the definition of satire or have decided it is synonymous with "comedy," you should really just move along.
The owner and main writer of the site is self-professed liberal troll Christopher Blair, a man from Maine who has made it his full time job to troll gullible conservatives and Trump supporters into liking and sharing his articles. He runs several other websites such as ladiesofliberty.net, shareotonin.com and dailyworldupdate.com. Sometimes he is also known under his nickname "Busta Troll". He has at least one accomplice who writes under the pen names "Freedom", "Captain Jellypants", "Butch Mannington" or "Captain Buck Atlantis".
Articles from Blair's sites frequently get copied by "real" fake news sites who often omit the satire disclaimer and any other hints the stories are fake. Blair has tried to get these sites shut down in the past but new ones keep cropping up and he keeps knocking them down.
If you see one of his stories on a site that does not contain a satire disclaimer, assume it is fake news. If you do see the satire disclaimer it is of course also fake news.
We wrote about potatriotpost.com before, here are our most recent articles that mention the site: