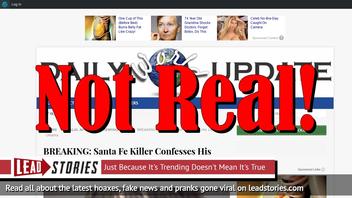 Did the shooter at the Santa Fe highschool who recently killed ten people confess his love for Obama? No, that's not true: an article that claims he did originated on a website known to publish false stories designed to get conservatives and Trump supporters to share them so they can subsequently be mocked by fans of the site.
The story originated from an article published on May 18, 2018 titled "BREAKING: Santa Fe Killer Confesses His Love For Obama" (archived here) which opened:
The 17-year-old murderer who gunned down 10 people in cold blood was originally reported to be a Muslim, then a member of MS-13. In the very least we thought his ethnic name meant there would be some reason to be able to tie him to something other than right-wing terrorism. Now we have that reason.

Dimitrius Pagopogouritz is a liberal whose immigrant parents raised him on welfare in the projects of San Dimas. In a leaked interview with police after the shooting, he admitted he was an Obama-loving moonbat who was looking to "end gun violence" by adding another shooting:

"I just figured if I caused enough damage maybe my school could be the next Parkland."
Users on social media only got to see this title, description and thumbnail:
He's a tree-hugging liberal.
First of all the name of the killer is "Dimitrios Pagourtzis" and not "Dimitrius Pagopogouritz". The article piles on several other invented organisations and people such as the "Texas Rangers Inner-City Cooperative" which doesn't exist, just like the killer's grandfather "Donatelliarius Souflakitariopolous". The article appears in the categories "Halal Approved Chewing Gum" and "Racism".
If all these hints don't make it clear enough the site also comes with a satire disclaimer at the bottom of each article:
sat·ire ~ˈsaˌtī(ə)r
noun
the use of humor, irony, exaggeration, OR ridicule to expose and criticize people's stupidity or vices, particularly in the context of contemporary politics and other topical issues.
If you disagree with the definition of satire or have decided it is synonymous with "comedy," you should really just move along.
The owner and main writer of the site is self-professed liberal troll Christopher Blair, a man from Maine who has made it his full time job to troll gullible conservatives and Trump supporters into liking and sharing his articles. He runs several other websites, including potatriotpost.us, dailyworldupdate.us and nofakenewsonline.us. Sometimes he is also known under his nickname "Busta Troll". A second man working on the sites is John Prager as revealed in this earlier story we wrote.
Articles from Blair's sites frequently get copied by "real" fake news sites who often omit the satire disclaimer and any other hints the stories are fake. Blair has tried to get these sites shut down in the past but new ones keep cropping up and he keeps knocking them down.
If you see one of his stories on a site that does not contain a satire disclaimer, assume it is fake news. If you do see the satire disclaimer it is of course also fake news.
We wrote about dailyworldupdate.us before, here are our most recent articles that mention the site: