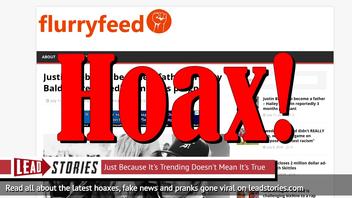 Is Justin Bieber going to be a father and has his fiancee Hailey Baldwin been confirmed to be three months into a pregnancy? No, that's not true: the story was made up by a "fauxtire" website and it is not real.
The story originated from an article published by FlurryFeed on July 11, 2018 titled "Justin Bieber to become a father - Hailey Baldwin reportedly 3 months pregnant" (archived here) which opened:
Bieber-baby on the way

Only a few days after Justin Bieber announced his engagment to long-term girlfriend, model Hailey Baldwin, another bombshell has been dropped - the celebrity couple of two will soon become a trio. According to an exclusive scoop by a LA Downtown Gazette, Hailey Baldwin is three months along carrying their child. According to the source Jailey decided to conceal the pregnancy and wanted to announce it after the engagement news broke, however, the source confirmed that Jailey were not too upset that the news had leaked and will officially announce the pregnancy shortly.
There is no publication named "LA Downtown Gazette" and Flurryfeed has a satire disclaimer on its about page that reads:
Flurryfeed is a fauxnews/satire publication
That seems pretty clear to us.
The site also appears to be related to The Portly Gazelle, another (now defunct) satire publication: links to Flurryfeed (including the fake Bieber story) regularily appear on the Facebook page of The Portly Gazelle and both sites share the same Google Analytics ID.