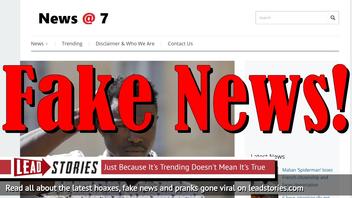 Is France revoking the citizenship of Mamoudou Gassama, the illegal immigrant from Mali who was naturalized after rescuing a child that was about to fall from a balcony by climbing up a building (which earned him the nickname "Spiderman")? No, that's not true: the story was made up by a website that claims to be satire but which is in effect part of a network of fake news websites run from Ghana. There is no truth to the news.
The story originated from an article published by News@7 on July 11, 2018 titled "Malian 'Spiderman' loses French citizenship and faces deportation - News@7" (archived here) which opened:
Mamoudou Gassama, the Malian 'Spiderman' in a viral video who saved a kid from falling from a balcony in France has had his French citizenship revoked.

The Malian migrant who was hailed as a hero after mounting a daring rescue to save the small boy dangling from a balcony in Paris was made a French citizen.

In a report by the Sûreté nationale, the National Police of France, Mamoudou Gassama's heroic rescue was staged.
Users on social media only saw this title, description and thumbnail:
it was planned
The site News@7 carries a satire disclaimer at the bottom of the page (which it copied from another site):
Your Attention Needed
sat·ire ~ˈsaˌtī(ə)r
noun
the use of humor, irony, exaggeration, OR ridicule to expose and criticize people's stupidity or vices, particularly in the context of contemporary politics and other topical issues.
If you disagree with the definition of satire or have decided it is synonymous with "comedy," you should really just move along.
No French news websites reported on the story so it is pretty safe to say it is fake news.
In addition the site contains ID's from Google's Adsense advertisting network that were also found on sites that were part of a large network of fake news sites run out of Ghana. We suspect the same people are trying to build up a new network after the previous one shut down after being exposed.
STORY UPDATED: check for updates below. On April 17, 2018 former First Lady Barbara Bush passed away but a full day earlier an article prematurely announcing her death from a website pretending to be CNN managed to rack up a combined 2.3 million likes, shares and comments on Facebook.
We wrote about news7pm.com before, here are our most recent articles that mention the site: