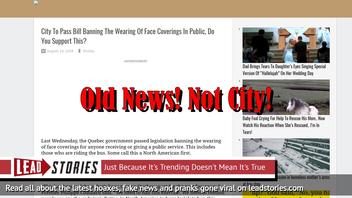 Is a "city" to pass a bill banning the wearing of face coverings (such as the burka or niqab) in public? No, that's not accurate, but not for the reason you might think. An article with that headline has been circulating on various Moroccan-run fake news websites but the body of the text correctly mentions that it is about Quebec in Canada (which is a province, not a city) and that the legislation was in fact already passed. But it omits to say this happened in 2017.
The latest version of the story appeared in an article published on August 19, 2018 by a site named Awesome Things and was titled "City To Pass Bill Banning The Wearing Of Face Coverings In Public, Do You Support This?" (archived here) which opened:
Last Wednesday, the Quebec government passed legislation banning the wearing of face coverings for anyone receiving or giving a public service. This includes those who are riding the bus. Some call this a North American first.

As to be expected, this new legislation is causing a whole lot of controversy. Members of the Islamic community are saying that it violates the fundamental rights of Muslim and doesn't allow them to express their religion.

"This has been a debate that's been tearing Quebec apart for the past few years," Premier Philippe Couillard said. "We need to hail this exercise. We need to remind people we are the only jurisdiction in North America to have legislated on this issue."
However that legislation was already passed in October 2017:
The Canadian province of Quebec has passed a sweeping ban on face coverings - barring public workers from wearing the niqab or burqa and obliging citizens to unveil when riding public transit or receiving government services - ushering in a law believed to be the first of its kind in North America.
So saying today that it happened "last wednesday" or that it is a "city" it is definitely not correct.
The domain name of the website awesome-things.info was registered anonymously but it seems to be a copy of awesome-things.me and that site was registered to someone in Morocco:
Domain:awesome-things.me
Registrar:GoDaddy.com, LLC
Registration Date:2017-11-27
Expiration Date:2018-11-27
Updated Date:2018-01-26
Status:clientDeleteProhibited
clientRenewProhibited
clientTransferProhibited
clientUpdateProhibited
Name Servers:ns01.domaincontrol.com
ns02.domaincontrol.com
REGISTRANT CONTACT
State:Al Hoceima
Country:MA
Sites pushing the story are not trying to inform people, they are just trying to stir up things so people get angry enough to like and share the article without thinking so they can make money off the ads appearing on the website. Don't fall for it!