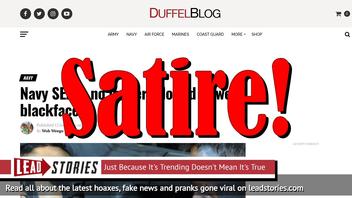 Are the Navy SEALs abandoning black face paint camouflage because it could be considered racist as a form of "blackface"? No, that's not true: the story came from a military satire website mocking political correctness in a humorous story, it is not real.
The story originated from an article published by Duffel Blog on November 2, 2018 titled "Navy SEALs no longer allowed to wear blackface -- Duffel Blog" (archived here) which opened:

FORT BRAGG, N.C. -- Special operators will no longer be allowed to wear black face paint after biting criticism from activist groups, sources confirmed today.

The move is aimed to stop the controversial practice of channeling one's inner black dude before infiltrating a compound.

"We are not 100 percent woke, but this is a big step," said Lt. Gen. Scott Howell, the current nominee to head Joint Special Operations Command. "We must stop perpetuating the stereotype that all black people are good at tactical operations."
Users on social media only saw this title, description and thumbnail and so some of them may have confused it with real news, explaining why it went viral:
"We are not 100 percent woke, but this is a big step"
But a big hint that the story was just a big joke lay in the fact that the article said the replacement camouflage would have "inclusive rainbow patterns and biodegradable glitter", which would kind of defeat the purpose of camouflage, i.e. not standing out.
The website Duffelblog.com is a military-themed satire website which sports following legal disclaimer on its 'about' page:
Legal

We are in no way, shape, or form, a real news outlet. Everything on this website is satirical and the content of this site is a parody of a news organization. No composition should be regarded as truthful, and no reference of an individual, company, or military unit seeks to inflict malice or emotional harm.

All characters, groups, and military units appearing in these works are fictitious. Any resemblance to real persons, living or dead, or actual military units and companies is purely coincidental.
They are sometimes refered to as the military version of The Onion but that same 'about' page points out:
Duffel Blog is sometimes referred to as "The military version of The Onion," but this is a misnomer. The gaffe was cleared up in May 2012 when Duffel Blog staff successfully conducted an airborne assault on the offices of The Onion News Network so that others would know "The Onion was actually the civilian version of Duffel Blog."
So don't fall for any of their stories...
We wrote about duffelblog.com before, here are our most recent articles that mention the site: