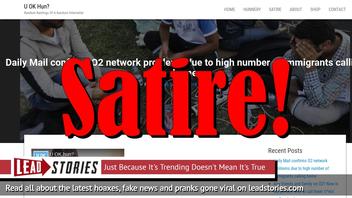 Did The Daily Mail write that today's outages on the O2 mobile network in the U.K. were to blame on the high number of immigrants calling home? No, that's not true: the story was put out by a satire website. It is not real.
The story originated from an article published by "U OK Hun?" on December 6, 2018 titled "Daily Mail confirms O2 network problems due to high number of immigrants calling home" (archived here) which opened:
An article in the Daily Mail has confirmed that today's O2 network problems were caused by too many immigrants all trying to call home at the same time.

Their report said, 'On Thursday morning, a high number of international FaceTime calls were placed, because so many of them have the latest smartphones don't they?'

'The United Kingdom's internet pipeline to Syria was quickly overwhelmed, and the knock-on effect here was that millions of British customers were suddenly unable to stream whatever jingoistic thundershite video was being put out by Leave.EU.'
Users on social media only saw this title and thumbnail:
The Daily Mail did report on the outage but the paper did not mention immigrants in the story. It reported the issues were blamed on a "software glitch".
LONDON/STOCKHOLM, Dec 6 (Reuters) - Ericsson said it was working with mobile companies in Britain and Japan to restore full service to millions of customers hit by outages caused by a software glitch in the Swedish company's equipment. O2, Britain's second biggest network, and Japan's Softbank reported network outages on Thursday, leaving many customers unable to access internet services.
The website "U OK Hun?" has an about page that reads:
Welcome to U OK Hun!

I started this blog and Facebook page because my social awkwardness makes it very difficult for me to be both funny and interesting in real life.

However, I am reasonably good at getting all Billy Big Bollocks on the Internet.

Don't forget to LIKE the U OK Hun Facebook page for the latest updates.

Totes grates babes,

Simon Harris, Editor-In-Chief and CEO of Hun Industries Inc.
The Southend News Network is a satirical site pretending to be a news organisation by the English coast in Southend. They have a disclaimer on their about page that reads (in part):
Southend News Network was originally started in October 2015 with no real aims or objectives in mind other than to add a satirical/spoof-like touch to issues that people are passionate about in Southend On Sea. Above all else, SNN is all about having the occasional 'dig' at the powers that be, as well a slightly bigger and more frequent 'dig' at certain elements of local media!
Several of their stories have been mistaken for real news in the past and the site was recognized by the local authorities as an "official news outlet".
We wrote about uokhun.uk before, here are our most recent articles that mention the site: