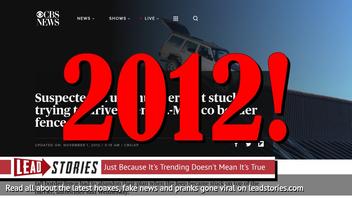 Did suspected drug smugglers use ramps to attempt to scale President Trump's border wall or fence in Yuma, Arizona? Yes they kind of did... in 2012, right during the middle of the Obama administration. The story recently went viral again probably because many people believed it proved the futility of Trump's proposed border wall/fence/barrier. It should probably also be noted that the attempt to cross the border in this manner failed and that the suspected smugglers had to leave their vehicle behind.
The story that went viral again was an article published on November 1, 2012 titled "Suspected drug smugglers get stuck trying to drive over U.S.-Mexico border fence" (archived here) which opened:
YUMA, Ariz. Suspected smugglers who tried to use ramps to drive an SUV over a 14-foot-tall border fence had to abandon their plan when the Jeep became stuck on top of the barrier, authorities said Wednesday.

Agents patrolling the U.S.-Mexico border near the Imperial Sand Dunes in California's southeast corner spotted the Jeep Cherokee teetering atop the fence early Tuesday, Border Patrol spokesman Spencer Tippets said. The vehicle was perched about five miles west of the Colorado River and the Arizona state line.

The Jeep was spotted just after midnight, CBS Yuma affiliate KSWT-TV reports.
Users on social media only saw this title, description and thumbnail so they would not have noticed the date:
SUV gets stuck in failed attempt to take late-night trip on makeshift ramps over U.S.-Mexico border
NewsGuard, a company that uses trained journalist to rank the reliability of websites, describes cbsnews.com as:
The website of CBS News, a network with national and international coverage on numerous award-winning programs, notably "60 Minutes." CBS News launched on the radio in 1928 and was a pioneer in broadcast news.
According to NewsGuard the site can generally be trusted to maintain journalistic standards. Read their full assessment here.