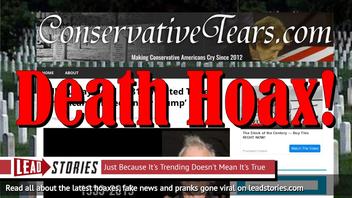 Did actor and legendary funnyman Bill Murray die at 81 and was his wish to see "Americans United Under Trump"? No, that's not true. The story was published by a liberal satire website that tries to educate gullible Trump supporters and Republicans about the need to actually click and read links before sharing or liking them in order to avoid being embarrassed by fans of the site later. All the events described in the article are not real.
Lead Stories contacted a close relative of Murray and we were provided this "proof of life," which was posted on Facebook Sunday morning -- after the death hoax was published -- showing the living actor playing golf at a PGA tournament.
The story originated from an article published by Conservative Tears on February 10, 2019 titled "Bill Murray Dead at 81 - Wanted To See 'Americans United Under Trump'" (archived here) which opened:
William Billington "Bill" Murray is dead this evening in his home in Winnetka, Wisconsin. Murray, who left public life a few years ago to pursue a more conservative lifestyle, found out he was dying about three months ago but decided not to make a big deal out of it.

According to his spokesman and lawyer, Art Tubolls, Murray left very simple instructions for his passing:

Bill wanted to see America unite under President Trump and come together to fight against all the things he's fought against his entire career. When he wrote the movie Ghostbusters he used Slimer as an example of how feeding something causes dependence. Stripes was to teach the average American that anyone can be a hero if the timing is right.
Users on social media only saw this title, description and thumbnail:
One of the greats is gone but not forgotten.
But Murray's full name is "William James Murray", not "William Billington Murray". And the links in the article point to additional hints it is not true. The link to the supposed hometown of Murray (Winnetka) points to a Google translation of the phrase "Pretty sure this is an interesting combination of a town from a Helen Hunt movie and...Wisconsin." A link at the end of the story inviting Chevy Chase to "suck it" went to a translation for "along with anyone who bought this load of crap."
The article was posted under the category "Satirical Death Disease and Dismemberment".
The site also carried a clear satire disclaimer at the bottom which read:
sat·ire ~ˈsaˌtī(ə)r
noun
the use of humor, irony, exaggeration, OR ridicule to expose and criticize people's stupidity or vices, particularly in the context of contemporary politics and other topical issues.
If you disagree with the definition of satire or have decided it is synonymous with "comedy," you should really just move along.
NewsGuard, a company that uses trained journalist to rank the reliability of websites, describes conservativetears.com as:
A hoax website that publishes false stories about celebrity deaths.
According to NewsGuard the site does not maintain basic standards of accuracy and accountability. Read their full assessment here.
We wrote about conservativetears.com before, here are our most recent articles that mention the site: