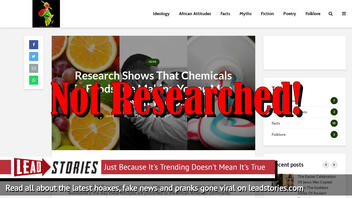 Did recent research show chemicals in foods are making young men in the U.S. gay? And does this happen especially in the African American community? No, that's not true: a clickbait website used two pieces of unrelated research to spin a frightening tale but none of the quoted studies in the article are even about sexual preference (or even about African Americans).
The story originated from an article (archived here) by Liberty Writers Africa under the title "Research Shows That Chemicals in Foods Are Making Young Men Gay In The U.S". It opened:
It is no news that there is a growing number of homosexuals in our society today. More worrisome is the way these lifestyles are presented to the African American community.

It is given an unprecedented amount of Airtime on TV and movies. Children are now been thought in schools that it is absolutely natural to be homosexual.

But besides the pressure on the average black boy and girl to embrace homosexuality, we have also learnt that there might be other causes for such change in hormones and sexual preferences amongst our young people of today.
The article then goes on to quote two studies to prove the point, one recent one from Kim Harley (from Berkeley University, California):
Hum Reprod. 2019 Jan 1;34(1):109-117. doi: 10.1093/humrep/dey337. Research Support, U.S. Gov't, Non-P.H.S.; Research Support, N.I.H., Extramural
The other one was from Tyrone B. Hayes and dates back to 2010:
The herbicide atrazine is one of the most commonly applied pesticides in the world. As a result, atrazine is the most commonly detected pesticide contaminant of ground, surface, and drinking water. Atrazine is also a potent endocrine disruptor that is ...
Both studies looked at the effects of certain chemicals. But one study was looking at the effect of compounds found in personal care products on the timing of puberty in girls and boys in a community of Latino farm workers in Salinas, California and the other study was looking at the effect of a type of pesticide on a particular species of frog.
Even though both studies produced remarkable results (the chemicals did seem to be associated with earlier onset of puberty and the herbicide changed the gender of certain frogs) they didn't reveal anything about young men or boys turning gay (African American or other) because that is not what the studies were about. In fact, the studies didn't even look at chemicals in food.
So it is definitely wrong to say any of this research showed anything about chemicals in food having an effect on young men in the U.S.
And if there was such an effect it was definitely not demonstrated by the quoted research.