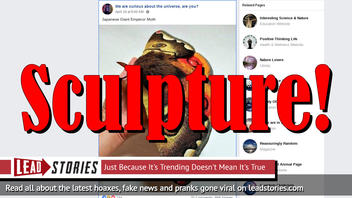 Is a picture of a "Japanese Giant Emperor Moth" circulating online real? No, that's not true: the picture was taken from the Etsy shop of an artist named Yumi Okita who specializes in making sculptures of giant moths and butterflies.
An example of the image can be seen in a recent Facebok post (archived here):
This is the image in question: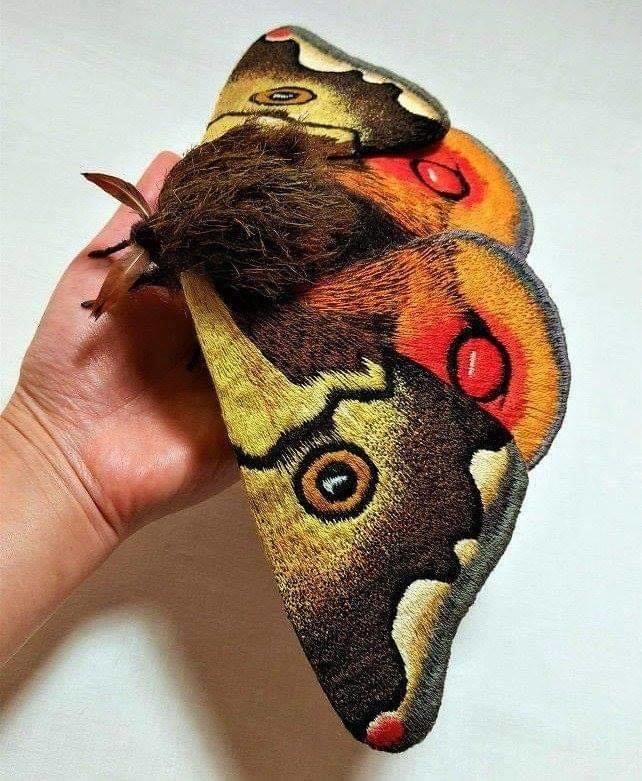 It can be found in the Etsy shop of Yumi Okita:
You searched for: YumiOkita! Discover the unique items that YumiOkita creates. At Etsy, we pride ourselves on our global community of sellers. Each Etsy seller helps contribute to a global marketplace of creative goods. By supporting YumiOkita, you're supporting a small business, and, in turn, Etsy!
Specifically here (archived version), where it is marked as "Sold" and described as a statue of an "Hemileuca elganterina", with following details:
Item details
Handmade item

Materials
fabric, embroidery thread, fake fur, wire, feather

This moth is about 6 inches tall and 12 inches wide. The wings are made from fabric which is hand painted and embroidered with layer of thread creating texture and depth of color . The body is made of faux fur. You may display on the wall (metal hook attached on the underside) or display free standing. It is a one of a kind unique sculpture.
The Hemileuca Elganterina is a moth native to North America and has nothing to do with Japan:
The sheep moth, or common sheep moth ( Hemileuca eglanterina), is a member of the family Saturniidae of silk moths and is native to western North America. In California, its range is west of the Sierran crest and the mountains of Southern California, ranging near to the coast.
It is unclear where the name "Japanese Giant Emperor Moth" comes from as that species does not exist.