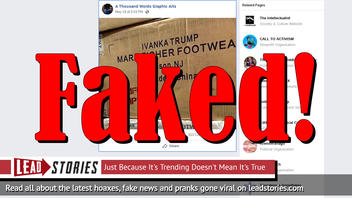 Is Ivanka Trump's "Marc Fisher Footwear" line exempt from U.S. tariffs when the shoes are imported from China? No, that's not true: President Donald Trump's daughter shut down her fashion brand in 2018 and a meme of a box showing a "TARRIFF EXEMPT" stamp was digitally altered using an old image.
The meme originated from a post (archived here) published on May 19, 2019. The print on the cardboard box read:
IVANKA TRUMPs
MARC FISHER FOOT WEAR
Edison, NJ
Made in China


TARRIFF EXEMPT
Users on social media only saw this title, description and thumbnail:
First, the "TARRIFF EXEMPT" stamp was not on the box. It was digitally added and spelled incorrectly. Tariff has just one R. An official government stamp would not spell it "Tarriff." Also, we found the same photo elsewhere, but without the stamp: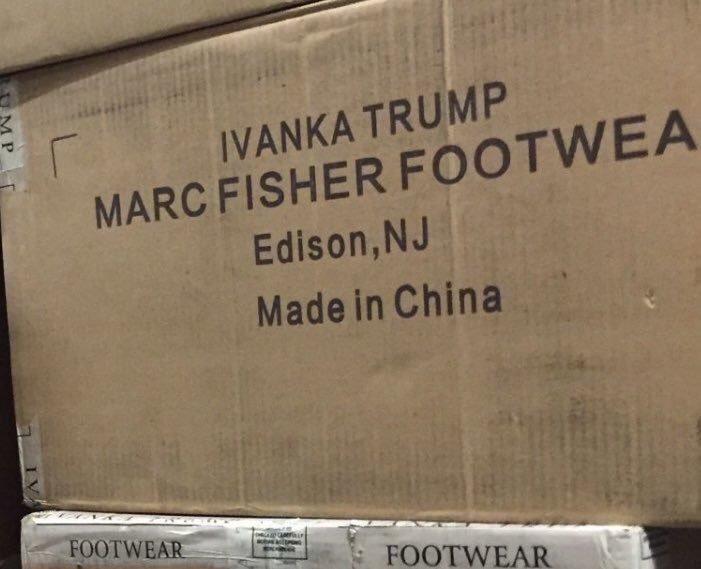 One example of the unstamped box image is from this anti-Trump tweet replying to a Republican Party tweet promoting "Made in America TRUMP Gear." Why would someone opposed to Trump digitally remove the offending stamp before tweeting about Trump products having been made in China? They would not.
Hahaha, cheap ass crap made in China. #TrumpPutinAlliance #FuckFatNixon #MARINESagainstTrump #VeteransAgainstTrump #Resistance pic.twitter.com/czSPy7jg43

-- 1st Sergeant (First Shirt) (@Top_Sergeant) May 27, 2019
The implication of the false meme, based on the timing of its publication, is that Ivanka Trump's shoes will not be burdened by the 25% tariffs recently announced against Chinese products by President Trump. Those proposed tariffs are still in the required comment stage and are not yet imposed. Click this link to see the federal regulation tracking of the proposal. Ivanka Trump discontinued her fashion business last year, including the footwear line, citing her government duties:
"After 17 months in Washington, I do not know when or if I will ever return to the business, but I do know that my focus for the foreseeable future will be the work I am doing here in Washington. So making this decision now is the only fair outcome for my team and partners."
She severed her role in the company as she took an unpaid job as a senior adviser to her father in the White House. Operations were placed in a trust. It has never been a secret that the footwear was made in China, as are about 70% of the shoes Americans wear. She faced criticism for that in the 2016 campaign.
(Ivanka Trump) faced allegations that a China-based factory manufacturing shoes for her eponymous label, the Ivanka Trump collection, has been engaged in unethical labor practices. Reports have called out the factory-- Xuankai Shoes Co., based in China's Houjie Town, Dongguan City of Guangdong Province -- for the alleged mistreatment of workers, including low wages and excessive working hours.
If Trump still had her footwear business, it would be significantly threatened by her father's tariff plan, according to a CBS News report:
More than 170 shoe companies and retailers -- including Nike, Teva, Foot Locker, Johnston & Murphy, Rockport and Under Armour -- warned in a letter to President Donald Trump of "catastrophic" consequences if new propsed tariffs on some $300 billion in Chinese goods takes effect.
it should be noted, though, that an earlier round of tariff increases on 1,300 Chinese-made products announced by President Trump in 2018 did not apply to shoe imports from China. Fortune magazine reported this on July 9, 2018:
The Office of the United States Trade Representative explained that the goods to be levied with tariffs were chosen based on what would disrupt the U.S. economy the least and have the least impact on consumers. Snopes, the fact checking website, pointed out that imposing tariffs would have a large impact on American consumers because 35% of all apparel imported in 2016 came from China. And 72% of shoes sold in the U.S. are from China, according to the South China Morning Post, citing the American Apparel and Footwear Association.
Still, some readers miss the old date on the Fortune article and use it as evidence of a current "exemption" for the First Daughter.