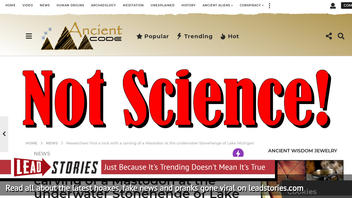 Did researchers find a rock with a carving of a mastodon at the underwater Stonehenge of Lake Michigan? No, that is not true: A rock that had a possibly human-carved etching resembling a mastodon was discovered in 2007, but it was not confirmed scientifically and researchers do not call the site the Stonehenge of Lake Michigan.
The claim began circulating in 2007 and -- in the words of the researcher who is credited with the discovery -- it "seems to gain a life in the media about every six months or so." One recent version is an article (archived here) published by ancient-code.com under the title "Researchers find a rock with a carving of a Mastodon at the underwater Stonehenge of Lake Michigan". It opened:
Another incredible discovery has been made as researchers have found a rock carving of a Mastodon at the underwater Stonehenge of Lake Michigan. In 2007, at a depth of twelve meters, researchers found a peculiar set of aligned stones that are believed to be over 10,000 years old. While searching for shipwrecks, archeologists from the Northwestern Michigan College came across something interesting at the bottom of Lake Michigan. They found mysteriously aligned rocks placed there by ancient man before water covered the area. Researchers couldn't believe what they were seeing upon making the discovery. It's America's Stonehenge.
Users on social media only saw this title, description and thumbnail:
Northwestern Michigan College underwater archeologist Dr. Marc Holley made an interesting discovery in Lake Michigan while surveying the lake bottom for shipwrecks in 2007. Dr. Holley noticed a straight line of large rocks and a circle of six boulders at the end of the line. It was an unusual pattern that triggered a decade of media speculation and exaggeration. As Dr. Holley writes in a blog titled "The Truth about the 'Stonehenge' in Lake Michigan."
This site seems to gain a life in the media about every six months or so. Sadly, much of the information out there is incorrect. For example, there is not a henge associated with the site and the individual stones are relatively small when compared to what most people think of as European standing stones. It should be clearly understood that this is not a megalith site like Stonehenge. This label has been placed on the site by individuals in the press who may have been attempting to generate sensation about the story and have not visited the site. The site in Grand Traverse Bay is best described as a long line of stones which is over a mile in length.
Researchers never called this a "Stonehenge," and -- as Dr. Holley noted -- it was not like the English Stonehenge. It was a writer's hyperbole, seeking a shorthand and non-scientific way of drawing interest for a story. We now call that "click bait."
Dr. Holley noted that a similar rock formation found by a fellow researcher in Lake Huron is believed by that expert to be "a prehistoric drive line for herding caribou." Hunters would place rocks in a pattern to funnel the Caribou into an area for ambush. Holley suggests that might also be what the formation he discovered was used for -- if humans placed them there.
The use of the English Stonehenge is also unclear although "speculation on the reason it was built range from human sacrifice to astronomy," according to the website dedicated to the formation. While it is possible that the Lake Michigan formation could have been naturally assembled, researchers calculate it took 30 million hours of human labor in three phases to construct the English formation.
What about the "mastodon carving?" The images used in the stories are digitally enchanced to support the non-scientific conclusion that an early human resident of North America carved the image of a mastodon into granite. The dark lines you see in the story's illustrations were drawn in. The actual "fissues and lines" that Dr. Holley discovered are faint.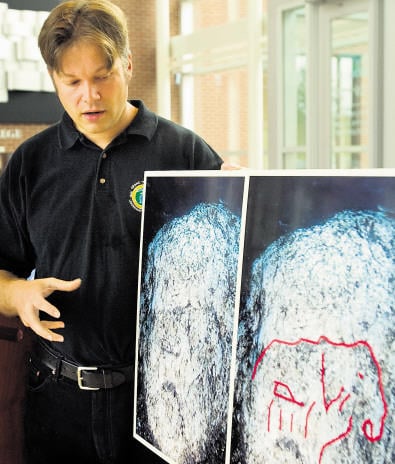 This photo is Dr. Holley showing the mysterious rock at a news conference in 2007. He stopped short of concluding if the rock was carved by a human, saying it needed more study. Twelve years later, no expert has yet to call it a human carving or a mastodon.