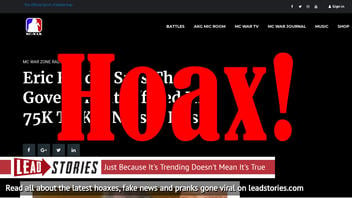 Did murder suspect Eric Holder say the government offered him $75,000 to kill rapper Nipsey Hussle? No, that's not true: Eric Holder is maintaining his innocence and his lawyer is preparing to defending him in a murder trial for the shooting death of Nipsey Hussle. There is no sourcing for a report that Holder is claiming he was hired by Los Angeles police to carrying out a hit on the popular musical artist.
The story originated from an article (archived here) where it was published on April 19, 2019 under the title "Eric Holder Says The Government Offered Him 75K To Kill Nipsey Hussle". It opened:
Several parties have reported on the accused killer Eric Holder accused of murdering beloved rapper Nipsey Hussle plead not guilty however according to sources, he plans to confess to the murder and give details about why he did it. Holder is claiming that "the government" hired him to gun down Nipsey in front of his store and promised he would not be caught and a check for $75,000. Well, Holder is not pleased with how the deal went south and now, from behind bars, he has revealed that he was contacted by the government to kill Nipsey. According to Holder, he was contacted by the Los Angeles Police Department and they had an offer he could not refuse - $75,000 for claiming the life of Nipsey Hussle. In the grand scheme of things, $75,000 is not a lot of money, but it was enough money for a friend to viciously kill Nipsey. Holder stated that LAPD's motive behind wanting Nipsey dead was unclear, and he did not bother to ask since "money talks".
Users on social media only saw this title, description and thumbnail:
Contrary to the claim in this report, Holder has not made any statements or given any indication that he planned to admit to the shooting and blame the LAPD for offering him a payoff. His public defender lawyer, in fact, was in court on May 31, 2019 for a hearing in advance of a jury trial for the case. Holder is jailed in lieu of $6.5 million bail as he awaits trial.

The fake report offered no sourcing and just speculation about why police would want to have Hussle killed and why they would have relied on Holder to carry it out without pointing the finger back at them. The report suggested the LAPD wanted to ignite a gang "turf war" in Los Angeles:
With all the good that Nipsey was doing for the black and minority communities of south Los Angeles, one can speculate that LAPD wanted Nipsey dead to of course stop the education of minorities and to start a gang war.
The Los Angeles Times offered this explanation of why police believe Holder killed Hussle:
Police have been tight-lipped about their investigation other than to say that Holder had gotten into a dispute with Hussle earlier on the day he was shot. Los Angeles Police Chief Michel Moore said investigators believed the shooting was the result of a "personal matter between the two of them," but he has not elaborated. Video of the shooting was captured by a nearby security camera.
The false report incuded an embedded YouTube video with the same time. It offered no additional details.
The publisher listed this description of itself at the bottom of the article:
Opus Magnum #1 Urban News Channel is quickly becoming a well known and respected brand With over 1.2 Million followers across our social networks, and website hits surpassing 1 million a month, we are rapidly establishing our place in the Media. Our primary focus is Celebrity Gossip, Trending News, and Interesting/Funny Stuff. We aim to provide our readers with a variety of entertainment! You will be ENTERTAINED and even ADDICTED!