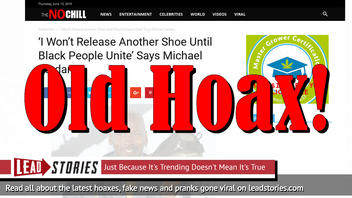 Did Michael Jordan say he won't release another shoe until black people unite? No, that's not true: an old story from 2016 went viral again in 2019 (despite having been debunked in 2016 already) and despite the fact that Michael Jordan has released many, many new sneakers since then.
The story that went viral again was an article (archived here) from The No Chill where it was published in 2016 according to the internet archive under the title "'I Won't Release Another Shoe Until Black People Unite' Says Michael Jordan". It opened:
"You will stand in line for my shoes but won't stand up for yourself"
Said Former NBA Star Michael J Jordan after he finally broke his silence about the recent killings of black men. As a proud American, a father who lost his own dad in a senseless act of violence, and a black man., I have been deeply troubled by the deaths of African-Americans at the hands of law enforcement and angered by the cowardly and hateful targeting and killing of police officers.
"I am sad to say this but my shoes are part of the problem"
"Although I know these contributions alone are not enough to solve the problem. I hope the resources will help both organizations make a positive difference," Jordan wrote.
The original story seems to have been initially published by a (now defunct) site named TMZ Hiphop (that has nothing to do with the real TMZ.com). In 2016 Snopes already debunked that version of the story, pointing out how unreliable that site had been in the past:
On 25 July 2016, the web site TMZ Hip Hoppublished an article that played on the previous reluctance of former NBA superstar Michael Jordan to speak out about social and political issues, reporting that Jordan had said he wasn't going to sell any more shoes "until black people unite": "YOU WILL STAND IN LINE FOR MY SHOES BUT WON'T STAND UP FOR YOURSELF" Said Former NBA Star Michael J Jordan after he finally broke his silence about the recent killings of black men.
And if you check the release dates of Air Jordans' shoes you can clearly see dozens and dozens of them have been released since 2019:
The Air Jordan line is getting plenty of fire power to kick off 2017. The Air Jordan 8 Sequoia kicks it off and we'll see a KAWS collaboration Spring 2017.
So either the quote was indeed fake or Michael Jordan found out at some point in time between 2016 and now that black people united and started releasing shoes again. The first option seems way more likely to us.