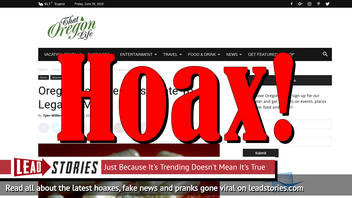 Did Oregon become the first U.S. state to legalize the drug molly? No, that's not true: Oregon and Alaska were the first states to legalize recreational marijuana in 2015, but contrary to an article on an Oregon news website, molly, aka ecstasy, MDMA, was not legalized. While the story is four years old, it began trending again in June 2019 with too many people apparently believing it is true.
ThatOregonLife.com published an article (archived here) on February 20, 2015 under the title "Oregon Becomes First State To Legalize Molly". It opened:
Oregon has been in the news all year for legalizing marijuana for recreational use, and legalizing weed is only the beginning. Following the heels of the wave of marijuana legalization, some might be surprised to hear the Oregon state legislature has decided to legalize the popular street drug Molly. Recreational use of Molly will become fully legal in the state by the end of the year.
The decision was met with controversy, but "no more or less than the original decision to legalize marijuana," Governor Kate Brown stated. The state is still figuring out some guidelines and ground rules for suppliers, such as purity levels, permits, and health code requirements.
While Kate Brown has only been governor for only 2 days, her decision may come as a shock to many Oregonians. Governor Brown did not comment on whether or not she pops Molly herself.
This is what social media users saw:
The publisher may very well have intended this as satire, however, there is satire label on the page and no satire disclaimer on the "about us" page. This is how the website described itself:
We love Oregon just as much as you do! At That Oregon Life, our goal is to provide premium Oregon content that will lead you on your next adventure, spread awareness and call for community support. We welcome all Oregonians, old and new with open arms who love exploring & sharing their story!
It is no longer a felony offense to possess a small amount of MDMA in Oregon under a law enacted in 2017, but it is a crime.