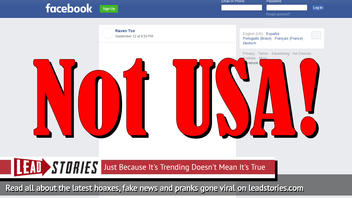 Does one "illegal refugee" get $3874 each month from the Federal Assistance Program? No, that's not true: Refugees are allowed to apply for asylum in the United States, which means they are not illegal. If a refugee enters the United States illegally, without applying for refugee status, they would not qualify for federal assistance. A document shown in a meme claiming that one refugee would get $3874 per month has nothing to do with an "illegal refugee" or anyone in the United States. It is a statement from Canada's Resettlement Assistance Program (RAP) listing payments and a loan for essential services for a legal refugee family of five. RAP covers the first four to six weeks after a refugee is legally admitted to Canada.
The false claim has circulated in a meme, including a post (archived here) shared on September 22, 2019 featuring a purported statement of federal assistance to a single "illegal refugee." Above the document, the text read:
THIS IS WHAT 1 ILLEGAL REFUGEE GETS WITH THE FEDERAL ASSISTANCE PROGRAM $3874 PER MONTH !!!
This is what social media users saw:
Look closely at the image and you will see the Canadian flag at the top of the document. That shows this meme is not related to the United States. Next, look in the box near the top of the page where the name of the refugee is listed. It notes that the assistance is for a family of five -- not one, as claimed. Also, this is not a MONTHLY payment, but a one-time assistance check.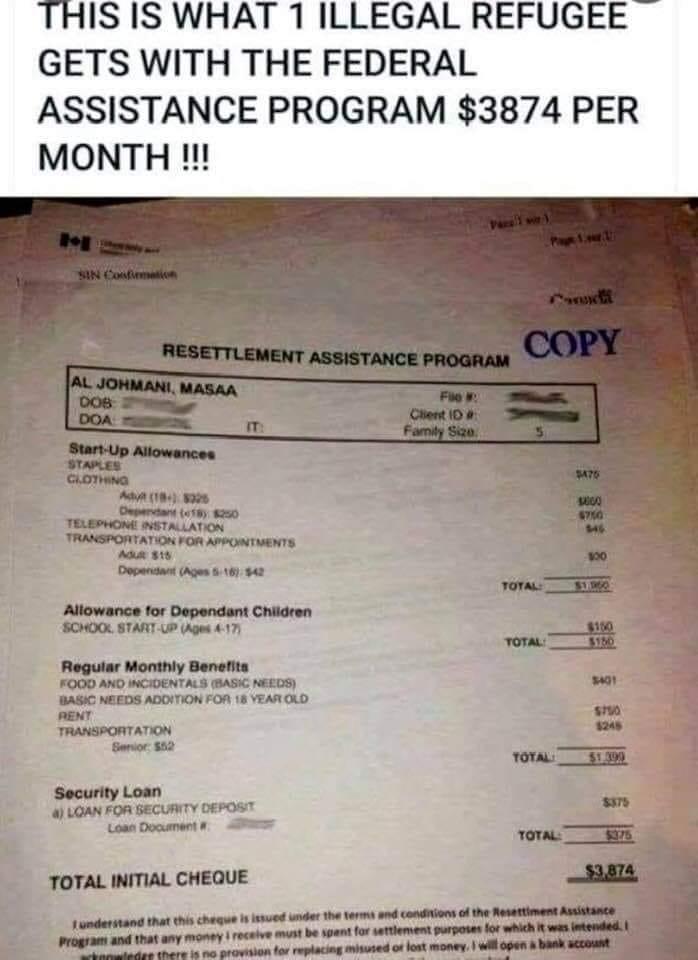 What is the "RESETTLEMENT ASSISTANCE PROGRAM"? This is from the Canadian government's website:
The Resettlement Assistance Program (RAP) is a contribution program. It has two main components: income support and assistance for a range of immediate essential services.
Immediate and essential services are delivered by Service Provider Organizations (SPOs), generally within the first 4-6 weeks of a newcomer's arrival in Canada. Activities include the following:

meeting newcomers at the airport or final destination in Canada
providing temporary accommodation
providing basic orientation to Canada, life skills training and financial orientation
assisting in finding permanent accommodation
referring to other settlement programs
While there were many commenters under this post pointing out that it is a Canadian -- not American -- assistance program; it was not to an "illegal" refugee; it was for a family of five, and not just one person. But many of the commenters were outraged Americans who believed the claims were real:
This is crap! We have elderly that barely get anything by way of social security or any type of government benefits or assistance, veterans don't get this much, disabled don't get this much. This is completely wrong.

This is absolutely unamerican and completely disrespectful to the American citizens..

How horrible for the hard working AMERICANS.

This pisses me off so bad, I'm legitimately disabled and get $800 a month, I can't even get a vehicle so that I can go back to work, this is f--king rediculous!!!!!
There are many myths about the government assistance immigrants can get after entering the United States, legally or illegally. They are often shared through memes that are short on sourcing or truth. Lead Stories debunked several of them in a story titled "Fake News: Illegal Immigrants Do NOT Get 43% Of All Food Stamps, 95% of Los Angeles Murder Warrants, 66% Of California Births, 60% Of HUD Housing."