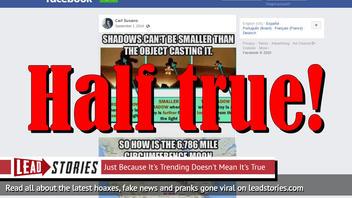 Is it true that the Moon cannot cast a shadow smaller than itself? No, that's not completely true: it is possible for a shadow to be smaller than the object casting it. The reason is because during a solar eclipse, the Moon casts two types of shadows on Earth: umbra and penumbra. Umbra is the inner shadow, which becomes smaller as it reaches Earth. Penumbra, the outside shadow, becomes larger as it reaches Earth.
Consider that when any object casts a shadow, the outside is fuzzier and gray, while the inside is darker and more defined. That's why a shadow - specifically an umbra - can be much smaller than the actual object blocking the light. That's also why only certain parts of the Earth can view total solar eclipses; the site of the shadow is much narrower than the actual Moon itself.
The claim originated from a post (archived here) where it was published on Facebook on September 1, 2019, titled "Shadows can't be smaller than the object casting it". The surrounding text read:
So how is the 6,786-mile circumference Moon casting a 100-mile wide shadow?
Users on social media only saw this thumbnail and description:
A solar eclipse is a naturally ocurring phenomenon when the Moon passes between the Earth and the Sun and blocks the Sun's light, creating a moving shadow on the surface of Earth.
But the region of Earth from which a total solar eclipse is visible is small because the umbra shadow is not the same size as the Moon. In fact, this visible region is about 0.05 times the size of the Moon.
The Moon is more than 6,000 miles around in circumference, but the Moon's umbral shadow is at most only about 166 miles wide.
A partial solar exclipse can be viewed if you're standing in the penumbra.
Again, that size differential all comes down to the geometry of the shadow being cast: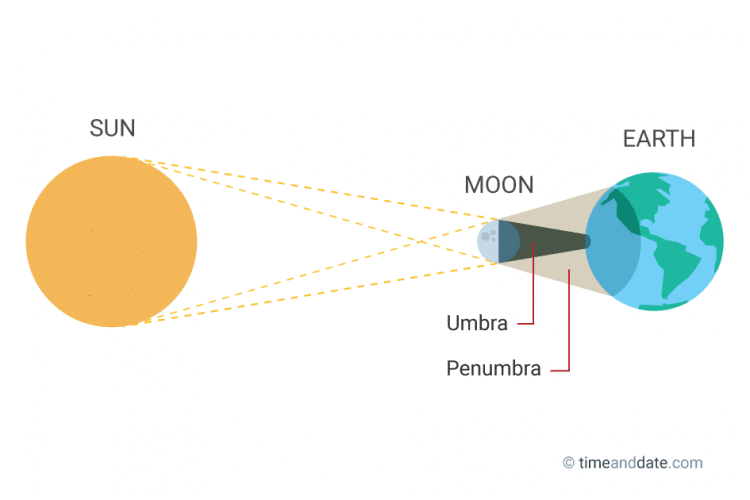 And while the shadow does depend on the Moon's angle in relation to Earth and the Sun, the size of the shadow remains largely unchanging, even as it moves over Earth's surface:
That explains why the solar eclipse in August of 2017 could be seen from the West Coast to the East Coast in the U.S. But those outside the total eclipse zone cast by the umbra were only viewing a partial, less-clear solar eclipse - even though that swath of visibility was encompassed by a much larger shadow.