STORY UPDATED: check for updates below.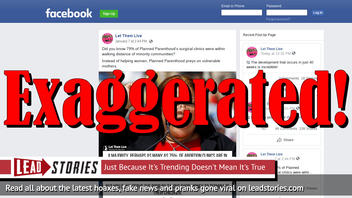 UPDATE: After this article was published, we received an email from Nathan Berning, executive director of Let Them Live Action Corporation. Berning called the Guttmacher Institute studies we cited "biased." We noted in our fact-check that Guttmacher Institute advocates "advancing sexual and reproductive health and rights in the U.S. and globally" and that both sides of the abortion debate are armed with statistics to defend their entrenched positions.
We reached out to Guttmacher Institute about objections to its study, but we did not receive a response.
See the below update for the full response from Berning. Here is our original story:
--------
Are a majority, perhaps as many as 75%, of abortion clinics in the United States located in areas with high minority populations? No, that does not appear to be true: While the claim has been making the rounds for years, research suggests that the numbers are exaggerated. According to Planned Parenthood, as well as separate research and previous fact checks, a majority of clinics are located in "rural or medically underserved areas."
The claim originated from an ad (archived here) published by Let Them Live on January 7, 2020. It opened:
Did you know 79% of Planned Parenthood's surgical clinics were within walking distance of minority communities?

Instead of helping women, Planned Parenthood preys on vulnerable mothers.
This is a screenshot of the post: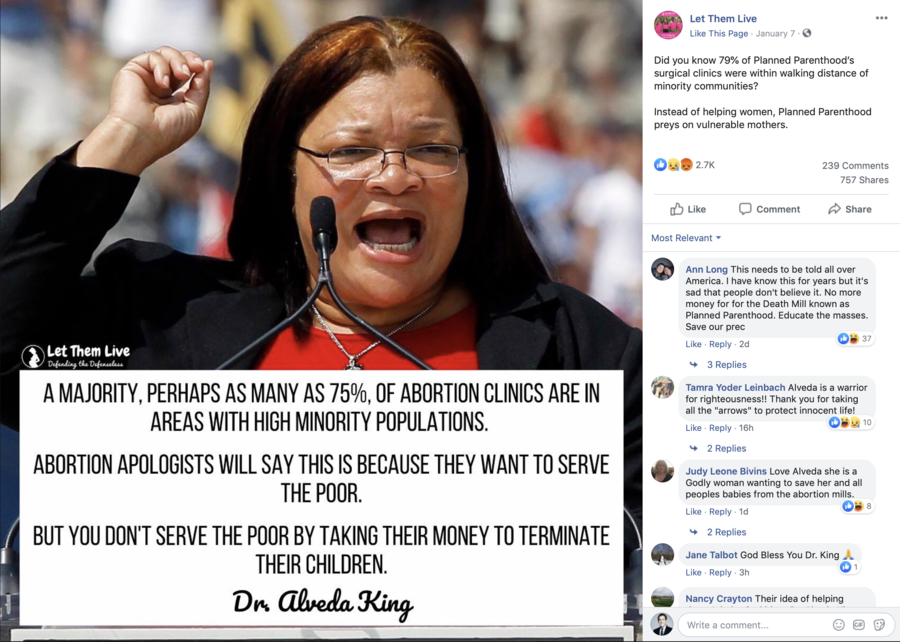 Just as the abortion issue is so divisive in the United States, advocates on both sides of the debate cite statistics to support their entrenched positions.
Abortion rights supporters refer to data from Planned Parenthood, which said 56% of its clinics are located in rural or underserved areas. They also cite research from the Guttmacher Institute, which advocates "advancing sexual and reproductive health and rights in the U.S. and globally." In a study published in 2014, Guttmacher declared the claim that most abortion clinics are located in minority neighborhoods to be false. The group determined that less than 10% of the clinics were in predominantly African American neighborhoods.
Meanwhile, anti-abortion advocates point to census data summarized by Protecting Black Life, which offers a map of abortion clinics relative to the area's demographics. The written summary accompanying the map suggested that "62% of Planned Parenthood abortion facilities are within walking distance (2 miles) of relatively high African American populations."
If those statistics are true, the ad making the claim that "perhaps as many as 75%" of clinics are near minorities is exaggerated.
In 2011, The Washington Post fact-checked claims made by former Republican presidential candidate Herman Cain, who suggested that 75% of abortion clinics were built in the black community. The paper's detailed analysis of the map mentioned above determined that only about 110 locations out of about 800 were in areas where the black population is greater than a quarter of the overall population.
So, while both sides of the abortion debate offer up statistics to make their case, it appears the numbers mentioned in this ad - "as many as 75%" - are exaggerated.
2020-01-16T11:38:54Z

2020-01-16T11:38:54Z

In response to the Guttmacher study, Nathan Berning, executive director of Let Them Live Action Corporation told Lead Stories: "In June 2016, Life Issues Institute (the organization responsible for the Protecting Black Life research project) issued a response to the Guttmacher Institute's claim that only 9% of abortion facilities were located in majority Black neighborhoods. [Guttmacher Institute's] study relied on zip code mailing areas, ignoring nearby minority neighborhoods in different zip codes, and revealing little about the actual demographics surrounding the abortion facilities. In addition, by only including Black populations of 50% or more, nearly 4 times the national average, it excluded the many neighborhoods where minorities have a strong presence without holding a majority. For perspective, 28 states have Black percentages under 12.6% and the highest Black population of any state is 30.5%. In reality, this study was a smokescreen intended to allow media and pro-abortion activists to preserve the storyline that Planned Parenthood Federation of America (PPFA) is not targeting minorities. To accomplish this deceptive conclusion, Guttmacher's study included all abortion facilities providing over 400 abortions per year and offered no supporting data to unravel the truth about PPFA's locations. In 2015, Life Issues Institute revisited the Protecting Black Life project. Their updated analysis found that of the 173 Planned Parenthood surgical abortion clinics operating in 2014, 78% are located within walking distance of minority communities. With that said, we have adjusted our statistic from 79% to 78%." Let Them Live Action Corporation's original Facebook post suggested 79% of Planned Parenthood's surgical clinics were within walking distance of minority communities. The above response now suggested 78%. The written summary accompanying the original post had defined the walking distance radius as being two miles. However, scientists say the concept of walking distance is limited to a quarter-mile, or just a few city blocks. Two miles would be eight times that distance, so we still deem the claim to have been "exaggerated."