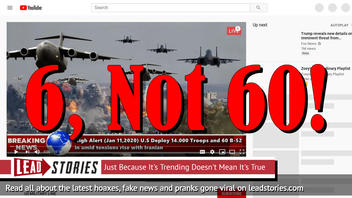 Did the United States send 60 B-52 Stratofortress bombers to Diego Garcia because of rising tensions with Iran? No, that's not true: The Pentagon ordered just six B-52s to Diego Garcia - the Indian Ocean island that is home to a strategic U.S. base - in the days after the killing of Iranian military leader Qasem Soleimani, according to CNN. The U.S. military has just 58 B-52s in its active inventory, according to an Air Force fact sheet.
The claim originated from a video (archived here) where it was published by the US Miliary Line channel on January 10, 2020, under the title "High Alert (Jan 11,2020): U.S. Deploy 14.000 Troops and 60 B-52 in amid tensions rise with Iranian". It opened:
The US Air Force is sending 60 B-52 Stratofortress bombers to Diego Garcia, a military hub that acts as a strategic location for operations in both the Middle East and the Pacific.

However, the latest "deployment does not signal that operations have been ordered," CNN reported.

"For operational security, we are not discussing forces flowing into or out of the US Central Command area of responsibility at this time," Pentagon spokeswoman Cmdr. Rebecca Rebarich told Military.com in response to a request for comment.
This is what social media users saw:
This video was created using a comouter-generated voice that read directly from a story from BusinessInsider.com titled The US is sending B-52 bombers to a Middle East hub amid tensions with Iran. However, some facts got changed in the process. The original story correctly quoted CNN's reporting that six - not 60 - of the massive bombers were being deployed.
This is what CNN Pentagon reporter Barbara Starr reported on January 6, 2020, in a story titled US expected to deploy 6 bombers for possible Iran operations:
The Pentagon is planning to begin the deployment of six B-52 aircraft to the British territory of Diego Garcia in the Indian Ocean on Monday, according to a US official. The B-52s will be available for operations against Iran if ordered, the official said.

Remember: The deployment does not signal that operations have been ordered. The Pentagon has traditionally deployed long range bombers and other aircraft as a sign of US force presence and capability.

Last year, six B-52s deployed to Qatar when tensions with Iran began rising. But this time Diego Garcia was chosen to keep the aircraft out of the range of Iranian missiles, the official said.
The video's claim that 14,000 troops had been sent was also an exaggeration. Two Navy ships with 10,000 sailors and marines were deployed to the region.
The U.S. killed Soleimani in a drone strike ordered by President Trump on January 3, 2020, and Iran responded four days later with attacks on bases in Iraq where the U.S. had troops housed.