Did Pope Francis declare Lucifer as God? No, that's not true: The video being shared to make the claim relied on a poor translation of Latin and has been taken entirely out of context. "Lucifer" in Latin means "morning star," "Venus," or "light-bringing." While it's become synonymous today with Satan, the term was used in Christian tradition as a name for the devil before his fall from grace.
The claim originated from a video post (archived here) published by Once You Go Flat You Never Go Back! on June 1, 2019, under the title "Pope Francis Declares Lucifer As God - We Are Living At The End Of Times." It opened:
Pope Francis Declares Lucifer As God - We Are Living The End Of Times!!!

BLASPHEMERS!!!
The Vatican Worshipping Lucifer And Claiming Jesus Christ Is His Son...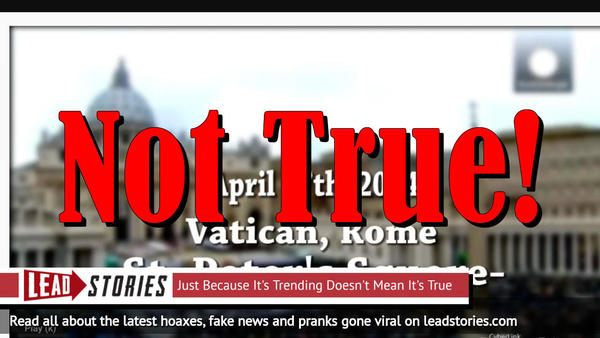 Users on social media saw this:
The video claimed on April 27, 2014, that Pope Francis presided over a ceremony to induct two former popes into sainthood. The captions, which contained numerous spelling errors, said the pontiff was making an annoucement (sic) and a decleration (sic) to the world.
The video then showed a cantor singing in Latin, which contained the word "lucifer," to suggest that Pope Francis has declared Satan as God.
However, this clip was taken from a completely different event, the Easter Vigil, and he was singing the Exsultet, or Easter Proclamation. The last stanza contains these words:
Flammas eius lúcifer matutínus invéniat:
ille, inquam, lúcifer, qui nescit occásum.
Christus Fílius tuus,
qui, regréssus ab ínferis, humáno géneri serénus illúxit,
et vivit et regnat in sæcula sæculórum.
Here is the translation, according to Wikipedia:
May this flame be found still burning
by the Morning Star:
the one Morning Star who never sets,
Christ your Son,
who, coming back from death's domain,
has shed his peaceful light on humanity,
and lives and reigns for ever and ever.
Amen.
Translations from one language to another can create gaps in comprehension, and that is particularly true for Latin, which is no longer spoken widely. Regardless, the video is a misleading attempt to smear Pope Francis and members of the Catholic Church.
We wrote about fake news on YouTube before. Here are our most recent articles that mention the site: