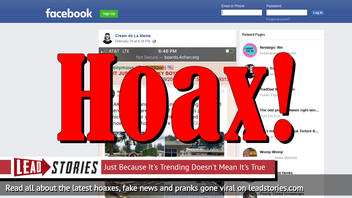 Did a Seattle journalist tweet out a claim that a coronavirus nursing home patient was the victim of a homicide? No, that's not true. The tweet did go out from a TV reporter, but it was doctored to claim that a murder investigation was underway at the nursing home - the epicenter for the Seattle-area outbreak that has state officials on high alert.
The claim surfaced in a post (archived here) where it was published on Facebook by user Cream de La Meme, with just a screen capture from 4Chan.org of the fake tweet by user Anonymous under the title "SHIT JUST GOT SPOOKY BOYS." It was posted February 29, 2020, and it opened:
BREAKING: FBI and DHS are investigating deceased patient at Life Care Center of Kirkland as potential homicide. Center says patient was visited by 3 unknown men shortly before death.
Social media users saw this:
The doctored tweet purportedly came from TV reporter Ted Land with King 5 News in Seattle, and it claims a murder investigation was underway at a nursing home where one patient has died and several others have been sickened with the Coronavirus. The 4Chan post ended with:
$50 SAYS THE PATIENT WAS BUMPED OFF BY FOREIGN STATE ACTORS TO TRIGGER PANIC
Land has been covering the coronavirus story as it unfolds in Washington State, but his official Twitter account shows no such reporting.
The photo in the fictional account appears to have originated with one that Land used in his original post about the Kirkland Care Center, shown here:
BREAKING: King Co. Public Health confirms four new cases of #coronavirus, including one death. All of those cases are residents of Life Care Center of Kirkland, a nursing home where it is feared the virus is spreading. pic.twitter.com/rtFgGAFiUG

-- Ted Land (@TedLandK5) March 2, 2020
A Twitter user called this to Land's attention, suggesting he let everyone know it was fake. Land responded, saying in a tweet: "Wow that's concerning. Thanks for letting us know."
@TedLandK5 someone just posted this in the comments section on a @KING5Seattle article on FB regarding firefighters being quarintined due to nursing facility. Thought you should be aware of it & probably address it's fake pic.twitter.com/oVdEcfRTYz

-- Denny Lee (@DennyJLee) March 1, 2020
The news station was also alerted to a different fake story on its website, claiming firefighters are being quarantined after helping patients at the Kirkland home. It has since been deleted.
The post by Cream de La Meme was called out by some users as bogus: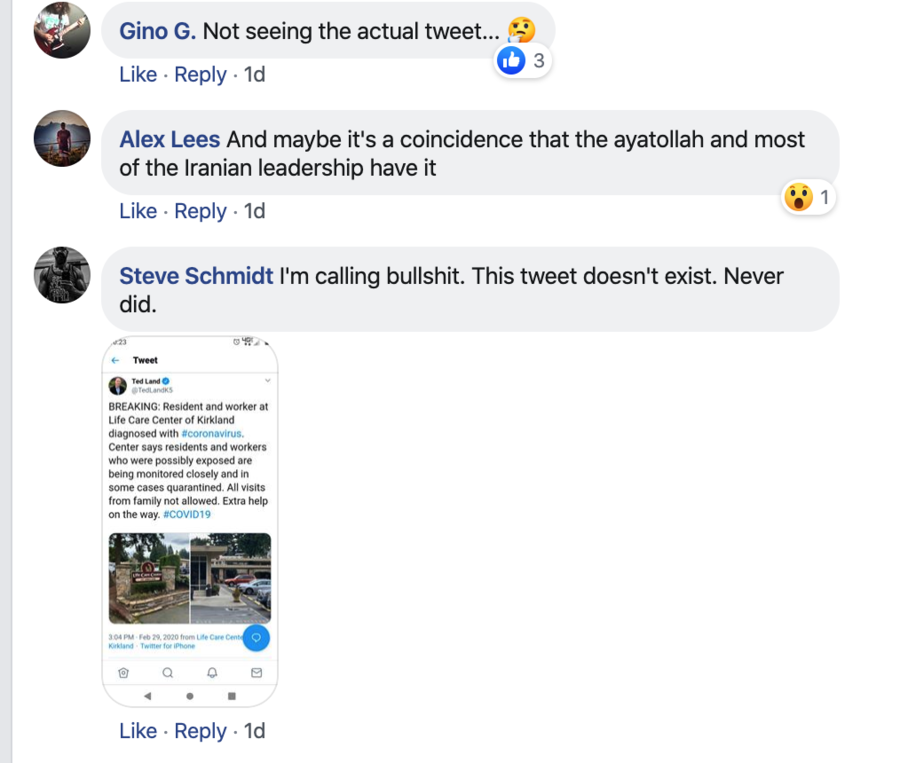 On Cream de La Meme's About section on Facebook, it reads:
This is an anti-hate group website. Like all anti-hate groups, we can arbitrarily label other groups as "hate groups" and then mobilize the Creamers to hold them accountable.
According to Monday's Seattle Times:
The emergence of the novel contagious illness at the Life Care Center of Kirkland has left one resident dead and four others hospitalized, with three in critical condition, local health officials said late Sunday. A health-care worker in her 40s also remained in satisfactory condition. The resident who died was a man in his 70s with underlying health conditions, officials said.

Officials previously said that of the nursing home's 108 residents and 180 staff members, more than 50 have shown signs of possible COVID-19 infection.
According to the World Health Organization, there have been nearly 90,000 confirmed cases of the Coronavirus documented since the outbreak in Wuhan, China. Official tracking by the organization shows there have been 3,056 deaths so far across the 67 countries where the disease has spread. Of the more than 60 cases confirmed in the United States, Bloomberg reported Monday:
Four more people have died of the coronavirus in Washington state, bringing the total fatalities to six, and local officials said they're preparing to isolate large numbers of patients for what they anticipate could be a significant outbreak.

The deaths have been centered around a nursing home near Seattle in Kirkland, where there are a large number of suspected patients. In total, there are at least 18 cases in the Pacific Northwest state, with at least 14 in King County and four in Snohomish County.
Other fact checks by Lead Stories concerning coronavirus misinformation include: