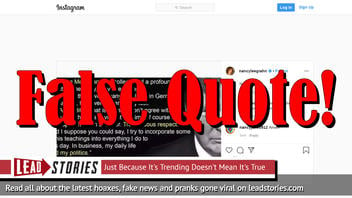 Did President Trump say that reading Mein Kampf, the manifesto written by Adolf Hitler, "had a profound affect (sic) on me"? No, that's not true: The quote has previously been shown to be completely made up, and the claim that Hitler's book has influenced Trump's business or political activities is also believed to be untrue.
The claim originated from a meme (archived here) published by Nancy Lee Grahn on March 1, 2020, alongside the caption, "There is no excuse to not vote and not blue. None." It opened:
Reading Mein Kampf in college had a profound affect (sic) on me. Very, very interesting. Of course there were many problems in Germany at the time, they were losers, they lost. But Adolf Hitler, that is to say, I don't agree with everything he was saying at the time of course but I do respect him. As a leader. Tremendous respect. And I suppose you could say, I try to incorporate some of his teachings into everything I do to this day. In business, my daily life and my politics.
- Donald J. Trump
(Interview with Time Magazine, 2002)
Users on social media saw this:
On April 17, 2019, Snopes debunked the claims making the rounds on social media in a meme that appeared like the one Grahn had shared. Snopes said there was no record of the quote before April 2019, and it observed that the media would have mentioned this quote "ad nauseum" had it been true.
According to a profile in Vanity Fair in September 1990, Trump's ex-wife Ivana had said the president owned a copy of Hitler's speeches and kept it close at hand:
Last April, perhaps in a surge of Czech nationalism, Ivana Trump told her lawyer Michael Kennedy that from time to time her husband reads a book of Hitler's collected speeches, My New Order, which he keeps in a cabinet by his bed. Kennedy now guards a copy of My New Order in a closet at his office, as if it were a grenade. Hitler's speeches, from his earliest days up through the Phony War of 1939, reveal his extraordinary ability as a master propagandist.

"Did your cousin John give you the Hitler speeches?" I asked Trump.

Trump hesitated. "Who told you that?"

"I don't remember," I said.

"Actually, it was my friend Marty Davis from Paramount who gave me a copy of Mein Kampf, and he's a Jew." ("I did give him a book about Hitler," Marty Davis said. "But it was My New Order, Hitler's speeches, not Mein Kampf. I thought he would find it interesting. I am his friend, but I'm not Jewish.")

Later, Trump returned to this subject. "If I had these speeches, and I am not saying that I do, I would never read them."
Even so, the quotes being attributed to Trump have been fabricated, and there is no evidence to suggest Trump's business or political practices are modeled after Hitler.
Despite being debunked last year, Grahn posted the meme on her Instagram account as if it were true.
Grahn is an actress most famous for roles in television soap operas, including "Santa Barbara" and "General Hospital." She is active in politics and devotes a section on her website to the topic. She shared her 2018 ballot and added, "Ballots vary--when in doubt, vote Democrat."
We wrote about fake news on Instagram before. Here are our most recent articles that mention the site: