STORY UPDATED: check for updates below.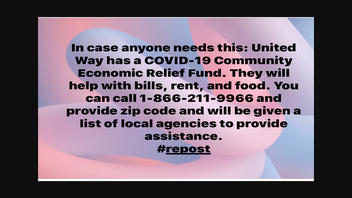 Does United Way have a COVID-19 Community Economic Relief Fund to help with bills, rent and food? And can you call 1-866-211-9966 to get help? That's partly false: United Way does have a COVID-19 community fund, but the telephone number listed on a meme that's gone viral on social media is for central Indiana residents only, according to an organization spokeswoman.
The meme on Facebook (archived here) and other social media platforms began making the rounds, and it has since gone viral. It reads:
"In case anyone needs this: United Way has a COVID-19 Community Economic Relief Fund. They will help you will bills, rent, and food. You can call 1-866-211-9966 and provide a zip code and will be given a list of local agencies to provide assistance. #repost."
Users on social media saw this:
People wanting to inquire about United Way's COVID-19 Community Economic Response and Recovery Fund should call the agency's non-emergency line at *211, which connects the caller to their local group, United Way's director of public relations, Southerlyn Reisig, told Lead Stories.
The relief organization is asking people not to call the number listed on the meme as it is connects callers only to resource specialists in central Indiana, who have been overwhelmed by telephone calls, Reisig said, adding:
Financial assistance is not available to all individuals through that local Indiana number, nor 211 everywhere. But by dialing 211, folks may access services available to them in their community.

We have been trying to correct it so that people in need can access the services they are looking for."
People can dial 211 to speak to someone about assistance at any time, but United Way is also warning that financial assistance related to COVID-19 is "not available for individuals everywhere," according to its website.
In follow-up email to Lead Stories, Reisig added:
We want people to dial 211 or go to 211.org

the agency wants people to call the non-emergency line at *211, which connects the caller to their local group
After Lead Stories' article was published and tweeted, United Way posted this:
Correct! The phone number referenced is only available for Central Indiana residents. If you need assistance finding food, paying housing bills, or other essential services, tap below to find your local 211 services. 👇https://t.co/vweUrkq7fV

-- United Way (@UnitedWay) March 19, 2020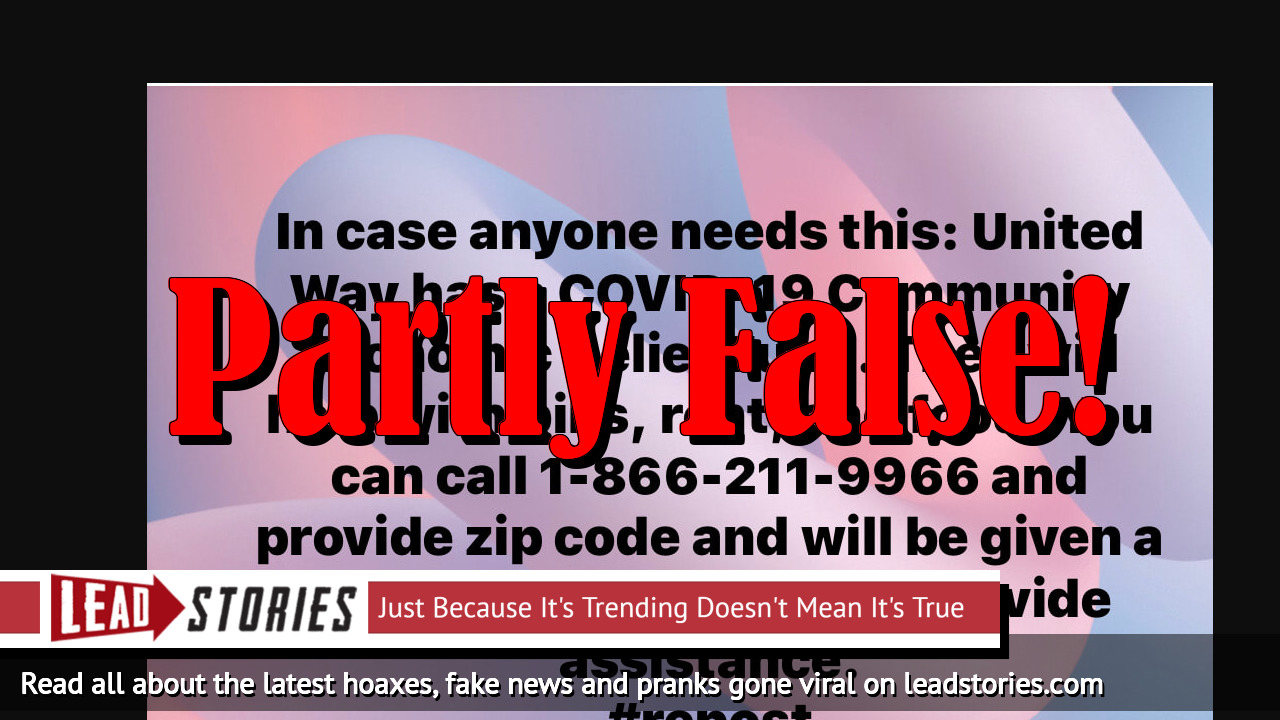 2020-03-19T16:47:08Z

2020-03-19T16:47:08Z

Updated with a Twitter response from United Way