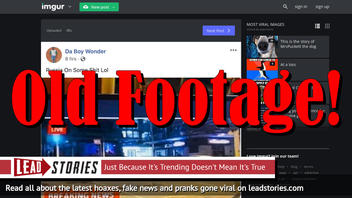 Did Russian President Vladimir Putin release 500 lions onto the streets of that country to keep people indoors amid the coronavirus outbreak? No, that's not true: The screen grab of a news report claiming that Putin released lions is four years old and is from a movie shoot.
The claim appeared on Facebook as a post (archived here) where it was published by Da Boy Wonder on March 23, 2020, under the title "Russia On Some Shit LOL". It opened:
"Russia released more than 500 lions on the streets to ensure that people are staying indoors during this pandemic outbreak.
Vladimir Putin released around 500 lions to make people stay indoors."
Social media users saw this:
Put simply, this story is not true.
Followers quickly caught on, calling out the veracity of the photo. One poster wrote: "It was posted on the fake news!!!! This is not true, but funny as shit if they did 😂"
A reverse image search showed that the fake story stole a still of a lion on the street from the filming of a movie in Johannesburg, South Africa, in April 2016. Still, the story was going viral on Facebook as users circulated the screenshot that looked like a news report showing the lion and claiming Russia's president had cut loose the big cats to keep people indoors to avoid infection amid the COVID-19 outbreak.
Wealthy British businessman and reality TV star Lord Alan Sugar posted a tweet of the fake news screenshot, racking up 39,700 likes and 8,900 retweets.
Is this a wind up pic.twitter.com/sG4vnfnxAN

-- Lord Sugar (@Lord_Sugar) March 22, 2020
The Daily Mail previously published the photos on April 15, 2016, from a movie location on the streets of the South African city, showing the lion in action. The story read, in part:
This is the moment a giant male lion was spotted strolling down the streets of South Africa's biggest city in the middle of the night. The big cat was seen prowling around a residential area in Johannesburg and at one point clambered up to rest its front legs on the back of a car.

But residents were later reassured that the lion, called Columbus, was not on the loose - and had been brought in by a production crew for filming.

Columbus had been borrowed from a nearby lion park and the area was fenced off while the animal, which has starred in a number of films and advertising campaigns, is tame.

AltNews.In noted that Pakistani actor Nasir Chinioti tweeted a message about Russia unleashing the lions, and the tweet gathered 28,700 likes and 14,800 retweets.
#Covid_19#StayAtHome
Vladimir Putin has given Russians two options.

You stay at home for 2 weeks or you go to jail for 5years.
No middle ground.

RUSSIA: Vladimir Putin has Dropped 800 tigers and Lions all over the Country to push people to stay Home.. Stay Safe Everyone!! pic.twitter.com/vI1NSpe5TR

-- Nasir Chinioti ناصر چنیوٹی (@_Chinioty) March 22, 2020
Russia has sent aid to help relieve Italy's devastating coronavirus outbreak, as Italy has the highest number of deaths, according to worldometers.info. But Russia, with some 143 million people, has not reported nearly the number of cases of the virus as other countries with similar populations, according to Bloomberg news.

The Kremlin has reported on 367 cases of COVID-19 and no deaths for all of Russia. The Russian government has not announced a broad lockdown, although schools and some businesses have been closed in recent days.
LeadStories has extensively covered viral hoaxes during the coronavirus outbreak. Read some of the stories here: