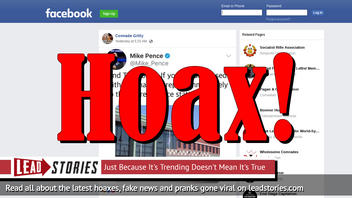 Did Vice President Mike Pence send out a tweet urging people infected with the novel coronavirus to go to the nearest police station? No, that is a hoax. Pence did not send such a tweet, as evidenced by the fact that no record of this tweet exists. It is a fake, despite getting some attention through shares and likes on social media.
The claim originated from a post (archived here) where it was published on Facebook by user Comrade Gritty on March 1, 2020. It read:
Find The Police: If you are diagnosed
with Coronavirus, report immediately
to the nearest police station. #FTP
Users on Facebook saw this:
The picture below the post is the 7th Police District of the Chicago Police Department, which covers parts of the city's South Side.
There are several indications the tweet is fake, including there being no record of it on Pence's account, live or deleted.
The claim appears to have originated on the Facebook page of "Comrade Gritty," a self-proclaimed "public figure" with almost 30,000 followers. The Facebook page is loaded with leftist memes and satire. It features a photo of deceased "Gonzo Journalist" Hunter Thompson with the Philadelphia Flyers mascot named Gritty, which has been adopted as a symbol by radical leftists.
Rather than "Find the Police," the writer is likely using the hashtag "FTP" to wink at the better known reference, "Fuck tha Police." That 1988 well-known protest song by the hip hop group N.W.A. calls attention to police brutality and racial profiling.
The fake tweet posted on Facebook has been shared almost 200 times and liked nearly 450 times.
Other fact checks by Lead Stories concerning coronavirus misinformation include: