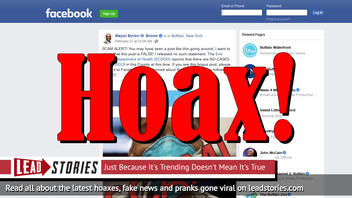 Did Mayor Byron Brown of Buffalo, New York, issue a statement telling residents to evacuate the city because of a Coronavirus outbreak? No, that's not true: The mayor denied this claim when he responded to a Facebook post spreading the misinformation. His message on social media began, "SCAM ALERT! You may have seen a post like this going around, I want to stress that this post is FALSE! I released no such statement."
Where exactly or how the story originated is unknown, but Brown slapped down the fake news with a post (archived here) that was published on Facebook on February 27, 2020. He shared the made-up post, the accompanying photo branded in red letters reading, "SCAM!" The offending post began this way:
Buffalo New York, is now on high alert due to confirmed Coronavirus at ECMC hospital on 462 Grider street. Mayor Byron Brown is now releasing statement telling people from the city of buffalo to evacuate due to Coronavirus outbreak in buffalo.
This is how the post, as shared by the mayor, appeared on social media:
The Buffalo mayor also shared information about the status of COVID-19 in his city, saying:
The Erie County Department of Health (ECDOH) reports that there are NO CASES of #COVID19 in this County at this time. If you see this bogus post, please report it to Facebook. Stay informed about the #Coronavirus by following the CDC.
The Erie County Department of Health was among those who responded to the mayor's post, saying:
Rumors are a distraction. Arm yourself with facts, like the ones we post on our web site.
Another person wrote, "I figured it was fake news." A third person added, "Find the person who did this and arrest them."

Lead Stories reached out to Buffalo officials to see if an investigation is underway to find the culprit behind this nonsense. We will update this story when we get an answer.
The Erie County Department of Health has posted on it's website a page dedicated to controlling rumors about COVID-19.
As of March 3, 2020, the last update on the health department's site, there were still no confirmed cases of COVID-19 in or around Buffalo, though the department confirmed that individuals who'd recently traveled "to a high-risk region in Northern Italy where there is widespread community transmission of this new coronavirus" are being tested.