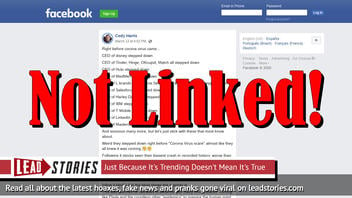 Do recent CEO resignations foretell a global conspiracy involving mass extinctions, automation, and economic collapse? No, that's not true: The post being widely shared is filled with fear-mongering conspiracy theories. While several chief executive officers have stepped down in recent months, there is no evidence linking these moves to a coordinated "shift in power" on a global scale.
The claim originated in a post (archived here) published on Facebook by Cody Harris on March 12, 2020. It opened:
Right before corona virus came...
CEO of disney stepped down
CEO of Tinder, Hinge, OKcupid, Match all stepped down
CEO of Hulu stepped down
CEO of MedMen stepped down
CEO of L brands like Victoria Secret bath and body works stepped down
CEO of Salesforce's stepped down
CEO of Harley Davidson stepped down
CEO of IBM stepped down
CEO of T Mobile stepping down
CEO of LinkedIn stepping down
CEO of Mastercard is stepping down
And soooooo many more, but let's just stick with these that most know about.
Users on social media only saw this:
There are several copy-and-paste versions of this post, but this appears to be the original one because it mentions "Cody" by name a couple of times. It has received hundreds of shares, comments, and engagements. Here is a sample of the many versions being shared online: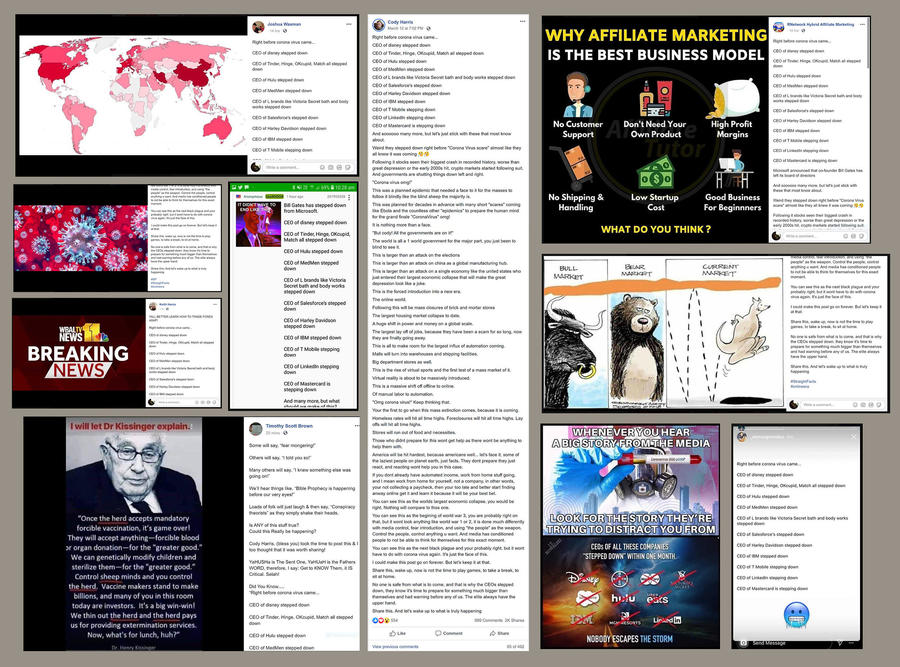 The post attempted to link a string of CEO resignations that it claimed happened before the novel coronavirus outbreak to a global conspiracy theory. Harris suggested that the CEOs "had warning before any of us" and stepped down "to prepare for something much bigger than themselves."
In many cases, the executives are actually remaining with the company in other roles. Bob Iger, for example, is staying with Disney through 2021.
As detailed below, the post wrongly said these executives stepped down before the coronavirus outbreak, which originated in Wuhan, China, in December 2019. The first case in the United States was announced on January 21, 2020, in Washington state.
In fact, some of these departures were announced after that date, not before. The post is also misleading to suggest these administrative changes are somehow interconnected.
Here are the facts about each of the CEOs referenced in the post:
USA Today reported that Iger was among a number of executives to step down abruptly or be ousted from their roles. However, in almost all of the cases the Facebook post cited, the executives are remaining with the company in some capacity. To suggest that they all collectively decided to depart because they had some warning about a future crisis is nonsensical. In some cases, the company boards simply wanted new leadership.
Exactly what the timing of these resignations had to do with the novel coronavirus is not made clear in the rambling post, which is filled with grammatical and spelling errors.
Harris opined that the coronavirus outbreak "was a planned epidemic" and had been in the works for decades, but he offered no evidence to back up his claims. It appears to be just his unqualified opinion. Lead Stories has debunked similar suggestions before.
Finally, he went on to foreshadow economic doom, mass layoffs, and a shift to a virtual world. There is no reason to suggest this doomsday scenario will play itself out, though. Fear-mongering posts such as this only serve to create a sense of panic at a time when the public is being urged to stay calm.