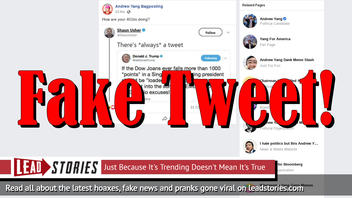 Did Donald Trump tweet in 2015 that if the "Dow Joans" were to fall more than 1,000 points in a single day, the president should be shot out of a cannon? No, that's not true: The tweet-within-a-tweet was made up, and the author has admitted it was a joke. The fake tweet has been debunked previously, but it seems to resurface whenever the stock market drops more than 1,000 points in a single day.
The claim reappeared in the form of a Facebook post (archived here) published by Andrew Yang Bagposting on March 9, 2020. It opened:
How are your 401ks doing?
Users on social media only saw this:
The fake tweet included a timestamp and date of February 25, 2015, which would have been almost two years before President Trump was sworn into office on January 20, 2017. Reuters, Snopes, and Newslit.org have previously debunked the tweet.
Shaun Usher, a British blogger and author, acknowledged he had created and shared the tweet as a joke. According to Snopes, Usher didn't think anyone would believe it was true when he published the fake tweet on February 5, 2018.
Tell you what. My inboxes are getting an absolute hammering at the moment. Wave upon wave of spittle. Don't create fake tweets! https://t.co/njVJSCT8Sz

-- Shaun Usher (@ShaunUsher) February 25, 2020
The hoax was Usher's attempt to capitalize on the popular Twitter activity, "There's Always A Tweet." Routinely, Internet users will highlight old tweets from the archive of @realDonaldTrump to point out perceived hypocrisies or comments that Trump made when he was a private citizen.
Trump's tweets have previously contained spelling errors, so some people fell for the joke. However, Usher's hoax does not appear in the Trump Twitter Archive, a repository for all of the president's tweets ever since he joined the microblogging site in March 2009.
Faking tweets is relatively easy to do. Hoaxers can superimpose made-up tweets on top of a real account using photo editing software or online tweet generators and then retweet the image. Unsuspecting followers might also retweet the fake tweet, allowing it to go viral.
Four years before making up the tweet, The New Yorker profiled Usher on June 6, 2004. In the article, he detailed his love of reading old letters, and in 2013, he published his first book, "Letters of Note: Correspondence Deserving of a Wider Audience."
On March 9, 2020, the Dow Jones Industrial Average dropped a staggering 2,013 points, or almost 8%, as falling oil prices and fears over the novel coronavirus spooked investors. It was the biggest point drop ever for the Dow, according to CNBC.