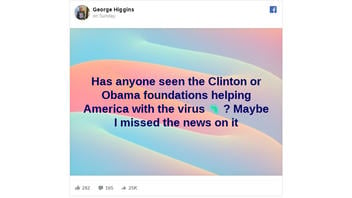 Are wealthy presidential foundations, including those of the Clintons and Obamas, failing to step up during the COVID-19 pandemic - which has already claimed more than 16,200 lives in the U.S. as of April 9, 2020? That's not necessarily true, depending on how you define "help." Several foundations of former presidents are offering words of advice or hope, donating food or literacy help.
The Obama Foundation offers stories of hope to lift Americans' spirits. The William J. Clinton foundation has so far donated 71,000 meals in Arkansas. The Reagan Library and those of the two Bush presidents offer advice, and the foundation of former President Jimmy Carter asks people to forego gifts to its organization and aim them toward those in need.
The question surfaced in a post (archived here) on Facebook on April 5, 2020, under the title "Has anyone seen the Clinton or Obama foundations helping America with the virus 🦠 ? Maybe I missed the news on it."
This is what the post looked like on Facebook at the time of writing:
Some presidential foundations are offering support with words during the coronavirus pandemic, and others are helping America with other actions.
The Clinton Center, in New York City, has partnered with organizations -- including the World Central Kitchen, the City of Little Rock and Arkansas Hunger Relief Alliance -- to prepare, pack, and distribute more than 71,000 meals in Little Rock and across Pulaski County, as of April 5 to help those impacted by the virus and the economic fallout.
The Obama Foundation has posted an inspirational webpage, and the former president also offered praise for, among others, medical professionals risking their lives to help stem the pandemic.
It's World Health Day, and we owe a profound debt of gratitude to all our medical professionals. They're still giving their all for us every day, at great risk to themselves, and we can't thank them enough for their bravery and their service.

-- Barack Obama (@BarackObama) April 7, 2020
The George H.W. Bush Foundation, in College Station, Texas, is not donating to people or causes, or performing services for COVID-19 victims. But it does offer advice here:
Donate to your local food bank. Donating money, not food, gives food banks greater flexibility over which supplies to offer.

Offer assistance to at-risk neighbors. Offering to pick up prescriptions or groceries or other assistance can be reassuring to those most vulnerable and facing uncertainty.

Stock up, then stop. Panic buying just contributes to shortages -- and more panic. If you already have 30 days' worth of prescriptions, food, and household supplies at home, stop shopping.
The Barbara Bush Foundation for Family Literacy also offers a toolkit for at-home learning here.
Likewise, President George W. Bush is not donating through his presidential foundation in Crawford, Texas. But on March 24, he said he has the highest confidence in NIAID Director Anthony Fauci and Coronavirus Response Coordinator Deborah Birx to lead the country's medical policies, according to DallasNews.com.
The younger Bush's foundation keeps up-to-date information on the outbreak here.
The Ronald Reagan Presidential Library has no presence online or publicly. Spokeswoman Melissa Giller said:
Right now, our mission is to keep our employees employed and continue raising funds."
As for The Carter Center, former President Jimmy Carter and former first lady Rosalynn Carter, as well as grandson Jason Carter, who is chairman of the board of trustees for the Center, put up this message from the foundation on March 24:
As you are well aware, our country is facing a health crisis. Though the behaviors of COVID-19 are not fully known, what we do know makes it a global threat to our physical and economic health.

We all have every confidence that we will come together as a nation and overcome this invisible threat. This virus and its impact must be addressed at every level of government and society. Each of us is gratified at the examples of volunteers and community organizations that have quickly mobilized to help those in need.

It is in this spirit that we ask you to forgo your next gift for the work of The Carter Center and direct it to a local group that is reducing the suffering caused by this pandemic. Each of us asks you to concentrate on the needs of your family, friends, neighbors, and all in your community. Your commitment will help stop this threat.

With thanks and best wishes,

Jimmy, Rosalynn, and Jason