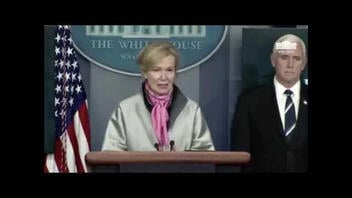 Is the number of coronavirus death in the U.S. being exaggerating due to incorrect reporting methods? No, that's not true: If anything, reports suggest that medical facilities and coroner or medical examiner offices may not have all of the victims counted due to people dying alone, among other reasons.
The issue originated in a YouTube post from Christina Aguayo on April 7, 2020 (archived here), under the title "Dr. Birx confirms anyone who dies with #COVID19 and has other health issues being counted as Covid19 death."
It shows Dr. Deborah Birx, response coordinator for the White House coronavirus task force, making this statement:
There are other countries that, if you had a preexisting condition and let's say the virus caused you to go to the ICU and then have a heart or kidney problem -- some countries are recording that as a heart issue or a kidney issue and not a COVID-19 death." She added that, in the U.S.,"...if someone dies with COVID-19 we are counting that as a COVID-19 death."
Click below to watch the video on YouTube:
But Dr. Birx's statement simply follows guidance issued by the Centers for Disease Control and Prevention on March 4, 2020:
It is important to emphasize that Coronavirus Disease 2019 or COVID-19 should be reported on the death certificate for all decedents where the disease caused or is assumed to have caused or contributed to death."
Here is a parallel situation: If a drunk driver dies from crashing his or her car, the direct cause of death is not alcohol. But alcohol certainly was a contributing factor. And it is important to have statistics on the number of alcohol-related vs. non-alcohol-related car crash deaths if you want to make sensible decisions about drinking ages, traffic laws and addiction support.
With COVID-19, it is exactly the same: It is a factor that pushes many already ill patients to the point of death, and it is important to know how many of these cases there are (for example, so hospitals can estimate the number of beds or ventilators they may need).
The New York Times reported on April 5 that the federal government was not likely to produce a final tally of coronavirus deaths until 2021:
Across the United States, even as coronavirus deaths are being recorded in terrifying numbers -- many hundreds each day -- the true death toll is likely much higher."
But as states report their own grim tallies right now -- they are following instructions from the federal government, not inflating the numbers, when they include those with preexisting health conditions as among the victims of this pandemic.