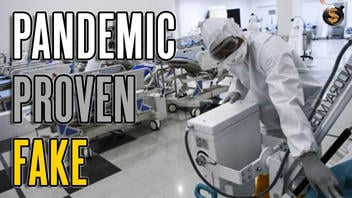 Did a video prove the "CoronaHoax Pandemic" was fake as lockdowns continue amid the COVID-19 outbreak? No, that's not true: An hour-long video on YouTube claims there is no real threat and that very few deaths have occurred worldwide from the coronavirus. Instead the video blames hype surrounding the virus on fake videos, the conspiracy that 5G was causing the illnesses and videos that Lead Stories has previously debunked.
The "CoronaHoax" video contains no evidence that the coronavirus outbreak is a "hoax." Moreover, officials had documented more than 12,000 deaths in the United States alone as of April 7, 2020.
The claim appeared as a video published by Jeff Berwick on YouTube on March 31, 2020, titled "CoronaHoax Pandemic Proven Fake... Yet The Lockdowns Continue... Here's Why" (archived here).
Click below to watch the video on YouTube:

This video does not prove there is a coronavirus hoax. Rather, it is a compilation of conspiracies circulating since COVID-19 pandemic first began to explode late last year and early in 2020.
Berwick, a Canadian self-proclaimed "anarcho-capitalist," racked up 697,000 views on his YouTube page for the video, which claims the media is hyping the death toll, that 5G is responsible for illness attributed to the virus - not COVID-19 - and he blames the banks for the resulting financial spiral.
"There's no coronavirus," he says in the video. "There's not a pandemic happening."
According to worldometers.info, which keeps a running tally of the cases and deaths associated with COVID-19, there have been 1,414,710 cases worldwide and 81,248 global deaths as of April 7, 2020.
Berwick touches on many far-right conspiracy claims, including the theory that the September 11, 2001, terrorist attacks on America never happened.
In the video, Berwick walks through a sunny neighborhood with his dog and extrapolates for an hour about all of his theories, while also stringing together video snippets that he claims prove hospitals around the world are not overwhelmed with coronavirus cases.
He blames the U.S. media for claiming to show an overcrowded hospital in New York that was actually in Italy, a country where the novel coronavirus has killed 17,127 as of April 7, 2020. There's truth to this one claim - one that Lead Stories wrote about in an article showing that CBS blamed an "editing error" for the hospital mixup in their report.
Quoting an unnamed scientist, Berwick claims "he said the death rate it looks like now isn't 5 to 10% or higher, as he thought it was it's probably closer to 0.1%, which is about the exact same as the flu."
The New York Times reported the current death rates of several countries around the world, showing that coronavirus death rates are higher than the flu:
But with 1,584 deaths, Germany's fatality rate stood at 1.6 percent, compared with 12 percent in Italy, around 10 percent in Spain, France and Britain, 4 percent in China and nearly 3 percent in the United States. Even South Korea, a model of flattening the curve, has a higher fatality rate, 1.8 percent."
Lead Stories has repeatedly shut down the claim that 5G technology is causing people to fall ill and die. Here is an example of one of our stories debunking that claim.
PCMag, in a story titled, "No, 5G Is Not Causing Coronavirus (Or Anything Else)," also debunked the claim:
COVID-19 is spreading in places that do not have 5G. Japan, one of the virus hotspots, does not currently have 5G. Iran, another major hotspot, does not have 5G. Malaysia, another hotspot, does not have 5G. And so on. There is no correlation between increased spread and the presence of 5G. Italy has 5G and the virus went wild; Iran does not, and the virus went wild.
On April 7, 2020, New York Gov. Andrew Cuomo said 731 people died of coronavirus - the state's highest one-day increase.
Berwick, in his video, showed others that have gone viral depicting empty parking lots and entrances to hospitals, claiming this as proof that the coronavirus outbreak is not actually happening. There is no footage from inside the hospitals.
He also claims that the $2 trillion U.S. stimulus package, passed to boost the American economy, is "a bailout for the banks." Also, he noted that CNN reports that $500 million will be given to large businesses ( those with over 500 employees.)
Berwick questions how quickly Prince Charles, 71, recovered from coronavirus, and he takes a dig at Queen Elizabeth II, stating:
I keep hoping the Queen is going to get it and die, but it's not real. It's totally fabricated, so that's not going to happen."
Again, despite an hour-long effort to "prove" what amount to conspiracy theories, Berwick offers no evidence that a "CoronaHoax" was at play.