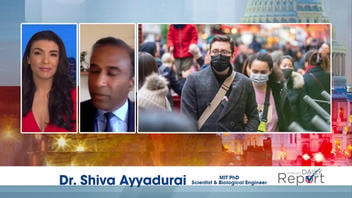 Did a viral video "crush" Dr. Anthony Fauci and expose Dr. Deborah Birx and the White House coronavirus task force as members of the so-called "Deep State"? No, that's not true: The man who appeared in an online newscast interview has a history of sharing wildly untrue claims. Chief among them: that he invented email.
This article will provide context around several of the assertions offered in the viral YouTube video.
The video was published by Christina Aguayo on April 10, 2020, and was titled "Dr. SHIVA Ayyadurai, MIT PhD Crushes Dr. Fauci & Breaks Down Corona Virus Response" (archived here).
Click below to watch the video on YouTube:
As of April 10, 2020, the post has received more than 5.3 million views on YouTube and has been shared countless times on Facebook.
In the video, Aguayo, who hosts an internet-based show, interviewed Dr. Shiva Ayyadurai, who was born in Mumbai, India, and has a Ph.D. in biological engineering from the Massachusetts Institute of Technology.
Ayyadurai is not a medical doctor. Still, he's called for the resignation or firing of Fauci, who is an MD. Fauci serves as the director of the National Institute of Allergy and Infectious Diseases and has advised six U.S. presidents.
Ayyadurai is also currently vying for the Republican nomination for the U.S. Senate in Massachusetts this year.
With all of that in mind, let's unpack some of the spurious claims he made in this video.
At the start of the interview, Ayyadurai opined that Fauci was planted by the "Deep State," wants to mandate vaccines, and is working for "Big Pharma" -- though he offered no evidence to support any of these claims.
On its face, the suggestion makes little sense. Would President Trump continue to be advised by someone who he believes is actively working against him in the so-called "Deep State"?
Ayyadurai - who, it bears repeating, is not a doctor - suggested that the coronavirus is caused by an "overactive, dysfunctional, weakened immune system that overreacts, and that's what causes damage to the body."
However, scientists know very little about how this new coronavirus responds to human immune systems, and it could be some time before researchers uncover that piece of the puzzle.
Also, in the video, Ayyadurai claimed that Fauci is "a guy who architected the big lie that HIV is responsible for AIDS." To suggest that HIV does not cause AIDS flies in the face of widespread medical science, which readers can examine further here, here, and here.
It is a dangerous claim to make because if people were to accept that view, they could end up passing on HIV to others.
Later in the video, Ayyadurai compared the situation now to when President Obama was dealing with the H1N1 swine flu epidemic. It's a contrast Trump has frequently made, but as FactCheck.org has noted, the two viruses are very different.
Ayyadurai declared that 60,000 people died from swine flu, but that number is grossly exaggerated. According to the Centers for Disease Control and Prevention, 12,469 deaths were to blame for H1N1 in the United States.
As of April 14, 2020, more than double that number have died of COVID-19 in the U.S. alone.
Ayyadurai later asserted that doctors are "cooking the books" and wildly inflating the numbers of people who have died as a result of the coronavirus -- a rumor that Lead Stories has looked into previously and rebuffed.
Finally, Ayyadurai suggested that there was no need for the quarantine and stay-at-home orders currently in place across the country. Instead, he suggested, "we should be back to work. We should be running this economy." He said:
When you isolate people, that is one of -- worse than the detriments from obesity, smoking and heart disease. Social isolation actually leads to upregulation of inflammatory compounds in the body and downright regulation of antiviral compounds. So, you're basically increasing the person for viral infection by the amount of stress you're causing them from social isolation, and separate from that we're telling people not to go out in the sun, which is vitamin D. Vitamin D is an antimicrobial. So, this is essentially a recipe for actually hurting people.
However, this is not at all what local municipalities and the White House coronavirus task force are advising. People are encouraged to maintain social distance -- some people prefer using the term "physical distance" to try to maintain what semblance they can of social lives -- while staying at least six feet apart to avoid contracting the coronavirus.
Further, no one is mandating that people can't go out in the sun, take a walk outdoors or participate in some other form of recreational exercise that is not a contact sport. Ayyadurai's statements contradict reality.
Ayyadurai is no stranger to controversy. Among other things, on his personal website he claims to have invented email, an assertion that has been roundly debunked. For example, Thomas Haigh, a technology historian offered a detailed summary of why his claims are false:
V.A. Shiva Ayyadurai is not a member of the MIT faculty and did not invent email. In 1980 he created a small-scale electronic mail system used within University of Medicine and Dentistry of New Jersey, but this could not send messages outside the university and included no important features missing from earlier systems. The details of Ayyadurai's program were never published, it was never commercialized, and it had no apparent influence on any further work in the field. He does not "hold the patent for email" or have a copyright on the word email, though in 1982 he did register a copyright claim covering the exact text of a program called "EMAIL." The U.S. Government has not recognized him as the inventor of email and he did not win the Westinghouse Science Talent Search for his program. Electronic mail services were widely used in the 1960s and 1970s and were commercially available long before 1980. To substantiate his claim to be the "inventor of email" Ayyadurai would have to show that no electronic mail system was produced prior to 1980, and so he has recently created an absurdly specific and historically inaccurate definition of electronic mail designed to exclude earlier systems. Ayyadurai has not even been able to show that he was the first to contract "electronic mail" to "email" or "e-mail" - his first documented use is in 1981 whereas the Oxford English Dictionary shows a newspaper usage in 1979. Despite Ayyadurai's energetic public relations campaign, which presents him as the victim of a racist conspiracy financed by corporate interests, he has not received support from any credible experts in email technology or the history of information technology. His claims have been widely debunked by technology bloggers and articles based on them have been retracted by the Washington Post and the Huffington Post.
According to Vanity Fair, he has also argued "that a strict vitamin regimen can prevent and treat the coronavirus - an unsubstantiated view at odds with the medical community and existing research."
The Santa Monica Observer reported that Ayyadurai has used his social media presence to spread erroneous claims about the novel coronavirus:
In a video he uploaded to YouTube titled "How To Kill Coronavirus" he claimed it was possible to kill the virus by inhaling hot air from a hair dryer. The video was removed from YouTube for violating standards.
Lead Stories has previously rejected claims that a hairdryer can kill the coronavirus.
On April 13, 2020, Politico published an article about Ayyadurai alongside the headline, "How a pair of anti-vaccine activists sparked a #FireFauci furor." You can read more about that here:
Yet Ayyadurai, who is not a medical doctor, has the imprimatur of several degrees from the Massachusetts Institute of Technology and an online fan base among the people leading the movement to oust Fauci, the government's top infectious disease expert. That includes DeAnna Lorraine, who suddenly ended up in the spotlight after Trump retweeted her call to #FireFauci.
Bottom line: The viral video and social media posts of this interview have been viewed and shared by millions of people, but the opinions Ayyadurai offered contain bad science that contradicts years of research and medical understanding.
Ayyadurai has a doctorate in engineering, not a medical degree, and many of the claims he made in the video are provably false.